CreArt Conference in Liverpool: Cities of Culture, 30 years on. Who has the edge? October 17 until 19 October 2018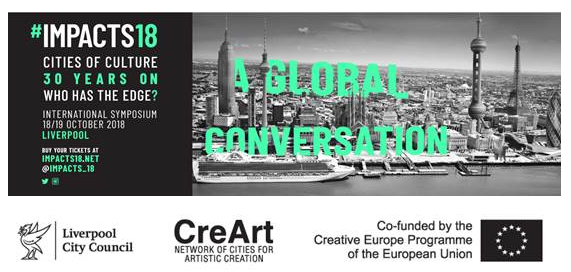 In October 2018, the Institute of Cultural Capital is partnering with Culture Liverpool, CREART and the British Council for a two-day international symposium dedicated to discussing the long term impact (over 30 years) of hosting major events — in so doing, underlining the case for the value of culture as a catalyst for change in cities more generally.
The symposium will discuss opportunities as well as challenges — in particular, what it takes for cities to maintain a distinctive and competitive edge, in an era where becoming a 'city of culture' is a common aspiration. Featuring conversations with cities from the UK, Europe and beyond, these discussions will consider not only the rewards that can potentially be reaped by event-led cultural regeneration but also the barriers to, and risks of, success.
Symposium programme
(Note this programme is provisional and subject to change)
Discussions will evolve around one major research presentation, six plenary sessions and three parallel workshops dedicated to rethinking the big questions that both established and aspiring 'cities of culture' face today.
17 October (7pm-9pm)
Official Reception with Mayoral 100 Club
AT BRITISH MUSIC EXPERIENCE, PIER HEAD
Official Welcome by Harvey Goldsmith
Registration opens to delegates
18 October (9am-6pm) Liverpool Town Hall
Longitudinal Research Presentation | Impacts 18: Long term legacies of a European Capital of Culture
Keynote: Dr Beatriz Garcia presents core findings from the ICC longitudinal research programme, interrogating Liverpool's experience from 2000 to 2008 and 2018.
»Roundtable chaired by Andrea Nixon: From European Capitals of Culture to UK Cities of Culture. Panellists: Beatriz Garcia, Phil Redmond, Claire McColgan, Martin Green
In conversation | Beyond the post-industrial
30 years on, what do we mean by cultural renaissance cities? Do we still need a 'rags-to-riches' narrative to appreciate cities of culture?
Keynote: Prof Ann Markusen
In conversation: Michael Heseltine and Phil Redmond, chaired by Paula Ridley
Keynote & Roundtable | The risks of success
What happens to cities when they become the 'model' to follow? Can cities enable creativity if they become 'too good to fail'?
Keynote: Jude Kelly
Roundtable chaired by Jon Snow. Liverpool in conversation with panellists representing 'model' European cities of culture: Barcelona, Berlin, Nantes and Lisbon
Keynote & Roundtable | Bigger is not always better
Can world cities slow down? Can mega-events be culturally sustainable? From mega-to micro events in world cities
Roundtable chaired by Darren Henley, bringing Liverpool in conversation with global & mega-event cities: London, Paris, Shanghai
Cultural Event programme: 20 years of Liverpool Biennial, 30 years of TATE Liverpool
19 October (8am-6pm) Conference day with leading partner: CreArt
Hosted at: Titanic Hotel, Invisible Wind Factory, Liverpool Town Hall
Breakfast welcome & Roundtable discussion | Northern cities
What is the future for culture-led regeneration? Ways forward in Northern cities
Breakfast welcome by City Mayor Joe Anderson
Roundtable chaired by Alice Webb, with Northern Cities in the UK and across Europe
Roundtable discussion | Cities on the edge
What we can learn from the margins? Port cities, small cities, remote cities of Europe
Roundtable chaired by Bob Scott, with panellists representing cities on the edges of Europe, bringing Liverpool in conversation with Marseille, Porto, Kaunas and Genoa.
Liverpool regeneration and reimaging bus tour
Impacts 18 themed discussions while touring 30-years of culture-led physical transformation
Keynote & Roundtable discussion | Connected cities
Closer or further apart? European cultural networking post-Brexit
Keynote: Maria Balshaw
Discussion chaired by Michael Parkinson with panellists representing the British Council, CREART network, UNESCO Creative Cities network
Parallel Workshops
Parallel sessions discussing the impact of large scale interventions through three distinct thematic lenses. Each session builds on Impacts 18 evidence. The sessions involve creative interaction techniques to facilitate productive dialogue between academics, practitioners and policy-makers. Participants represent Liverpool & guest cities of culture from across Europe.
Reputation & Creative vibrancy | Governance & Networks | Engagement & Wellbeing
Closing statements & Artist Performance
Conference After-Party
---
Return to CreArt News