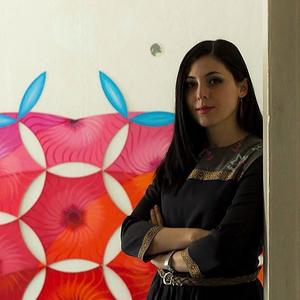 Ana Ivanovska is born in 1982 in Skopje and lives and works in Skopje, North Macedonia. 2011 Postgraduate studies in Visual Arts in the field of painting,
Faculty of Fine Arts, (St. Cyril and Methodius University) in Skopje, North Macedonia. Ana Ivanovska is a member of Association of Artists of Macedonia (DLUM) since 2006 and one of the founders of the art group and cultural alternative art exhibition space Art I.N.S.T.I.T.U.T. (2009 – 2011) in Skopje. In 2012 she became part of the seven members (founders) of the female artist group "MOMI" (LADIES) which is still active with new creative projects in the Macedonian art scene.
She is owner of the company "Artist Workshop – Creative Puzzle" (2014) and has a status as Independent Artist (Ministry of Culture) since 2015. Her work has been presented in various solo and over 100 group exhibitions, performances, art colonies, workshops and artist residencies in Macedonia and outside the country (New York-USA, Canada, Netherlands, France, Italy, Russia, Denmark, Mongolia, China, Austria, Azerbaijan, Monte Negro, Kosovo, Croatia, Bulgaria, Albania and Bosnia and Herzegovina).
Web: http://www.anaivanovska.com/?id=home&ln=en
Instagram: https://www.instagram.com/anaivanovska_art/