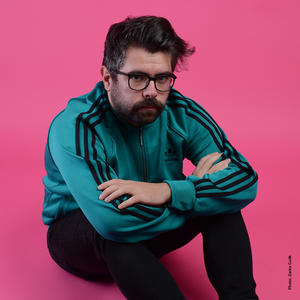 Darko Aleksovski [b. 1989] is a visual and performance artist. He holds an MFA Degree from the Faculty of Fine Arts in Skopje. He was an artist-in-residence at bm:ukk Artist-in-Residence Program (Vienna, Austria) and Deutsche Börse Residency Program at Frankfurter Kunstverein (Frankfurt, Germany). He participated in international projects and exhibitions at Tate Britain (London, UK), FRAC (Marseille, France), Hirvitalo - Center of Contemporary Art Pispala (Tampere, Finland), Mångkulturellt Center (Botkyrka, Sweden), NMG@Praktika (Split, Croatia), The New Bohemian Gallery (Brainerd, MN), Roman Susan Gallery (Chicago, IL) etc.
In the past few years he has been frequently collaborating with the publishing house PrivatePrint (Skopje, North Macedonia) and Mark Pezinger Verlag (Vienna, Austria). He has collaborated on interdisciplinary, research-based art projects such as Pixelversity (Helsinki, Finland) and Listening to the Audience (Bitola, Macedonia). In 2012, he worked as reviewer and interviewer for Furtherfield (furtherfield.org/London, UK).
In the Republic of North Macedonia, he exhibited in the Museum of Contemporary Art, The Museum of the City of Skopje, The Youth Cultural Center, The Open Graphic Art Studio, Cifte Amam Gallery and PrivatePrint Studio.
E-mail: darko.gregor.aleksovski@gmail.com
Web: https://www.darkoaleksovski.com/
Instagram: https://www.instagram.com/darkoaleksovski/