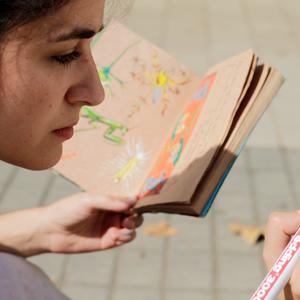 2014 – 2015
Darmasiswa Scholarship, Indonesian Institute of the Arts (Yogyakarta, Indonesia).
2012 – 2014
Painting MA Program, Vilnius Academy of Arts (Vilnius, Luthuania).
2009 – 2010
Erasmus Scholarship, National School of Fine Arts (Paris, France).
2006 – 2012
Fine Arts Bachelor Degree, Complutense University (Madrid, Spain).
Exhibitions selection:
2017 "sin logo", La Gran, Valladolid.
2016 "La publicidad como espacio de librepensamiento",
Sala del Teatro Calderón, Valladolid.
2015 "Batik", Muhammadiyah University, Cirebon, Indonesia.
"Seni Jalanan", Viavia Gallery, Yogyakarta.
2014 "Leaving Traces", Jonas Mekas Visual Arts Center, Vilnius.
"Caution /ˈkɔʃəәn/", National Gallery of Art, Vilnius.
"Kosminė odisėja 2014", 5 Malūnai, Vilnius.
2013 "Green Consciousness -3", Meno Parkas, Kaunas.
"Grass", Skalvija Kino Teatras, Vilnius.