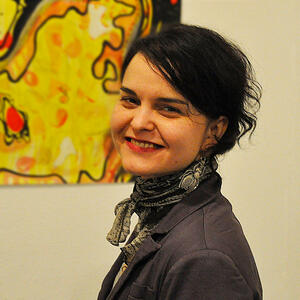 I am born 1983 in Skopje, Republic of Macedonia. I have finished secondary art school "Lazar Lichenoski" in Skopje, at the department of applied arts, and graduated in painting and graphic design department at the Faculty of Fine Arts at the University "Ss. Cyril and Methodius" in Skopje, R. Macedonia. Postgraduate studies in graphic design at the Faculty of Design and Multimedia in Skopje, R. Macedonia.
Since 2009, I'm a member of the Association of Artists of my country. I am one of the founding members of the art group and cultural alternative art exhibition space "Art I.N.S.T.I.T.U.T." in Skopje, established in 2009, also a founder of the female artist group "MOMI" (LADIES) which begins in 2012 with the active implementation of projects across the country and the Balkans.
I am working in the fields of graphic design, painting, installation, drawing, photography, scenography, restoration and conservation of paintings and fresco paintings, mosaic and video.
I actively participate in local and regional projects, border cooperation in the field of culture, also I'm taking part of many festivals, artistic gatherings, art symposiums, public presentations in the Balkans, Europe and beyond. I live and work in Skopje, R. Macedonia.
SOLO PROJECTS
Fourteen independent projects and exhibitions who are procesing the folowing themes: the beginning of the creation, interpersonal relations, improving the rights and treatment of women in the society and a topic that deals with the period of isolation and pandemic. Projects are presented in Germany, France, Bulgaria and most of the cities in Macedonia.
2021 - "19" Cultural Center "Marko Cepenkov" Prilep, R. Macedonia;
2020- "Scary night via-starry night" culture in the time of corona virus, MKC, City of Skopje;
2018- "SPROUT II" Open Studio, Intrational City of Arts, Paris, France;
2017-"Sprout" - Museum House "Robevci" Ohrid, R. Macedonia;
- Cultural Center "Marko Cepenkov" Prilep, R. Macedonia;
2016–"NEW URBAN MAN" Cultural Center "Marko Cepenkov" Prilep, R. Macedonia;
2015–"NEW URBAN MAN-WOMAN" Cultural Center "Kocho Racin" Kichevo, R. Macedonia;
2014 -"WO-MAN" Cultural Informative Center (KIC), Skopje, R. Macedonia;
- Cultural Center "Marko Cepenkov" Prilep, R. Macedonia;
2012 - "Vanity Race" - Gallery "Prima Center Berlin", Germany;
2012/2011 - "Mainstream"
- National Gallery of Macedonia-Object Chifte Hamam, Skopje R. Macedonia;
- Cultural Center "Marko Cepenkov" Prilep, R. Macedonia;
- Cultural Center "Trajko Prokopiev" Kumanovo, R. Macedonia;
- Cultural Center "Anton Panov" Strumica, R. Macedonia;
2010 - "The visualization of the moment"
- "Open Graphic Art Studio" Museum of the City of Skopje, R. Macedonia;
- House of Culture "Ivan Mazov-Klime" Kavadarci, R. Macedonia;
- Art Gallery "Bezisten" Shtip, R. Macedonia;
- Museum House "Robevci" Ohrid, R. Macedonia;
2010 - "Three same opposites" Art Gallery "Vladimir Dimitrov - Maistora" Kyustendil, Bulgaria;
2009 - "Creation II"
- "Hotel Apollonia" Gevgelija, R. Macedonia;
- Cultural Center "Marko Cepenkov" Prilep, R. Macedonia;
2007 - "Creation" - "Youth Cultural Center'' (MKC) Skopje, R. Macedonia
Instagram: https://www.instagram.com/hzafirovska/
https://www.behance.net/zafirovska