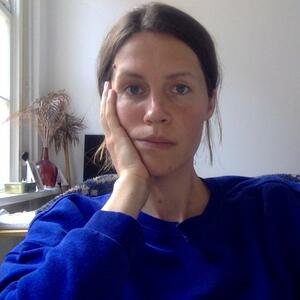 Indre Urbonaite (born 1986, in Kaunas, Lithuania) currently lives and works in the Hague, the
Netherlands. After completing her marketing studies in Lithuania she switched to develop her
knowledge at the Royal Academy of Art, The Hague where she has recently finished Bachelor
in Arts with major in Photography. In her work Urbonaite questions the nature of the image and
highlights the importance of the visual overlaod in our daily routine. Urbonaite's works have been
exhibited in the group shows in the Netherlands and the Northern Ireland. Her graduation project
"State of Shame" was nominated for the European Art Graduates Prize StartPoint Prize 2017 and
the book which was part of this project – shortlisted for "Luma Rencontres Dummy Book Award
Arles 2018".

education:
2013 - 2017 - Royal Academy of Art, The Hague, The Netherlands. Bachelor in Arts; major in
Photography.
2009 - 2011 - Vytautas Magnus University, Lithuania. Master in Marketing and International
Commerce
2005 - 2009 - Vytautas Magnus University, Lithuania. Bachelor in Business Administration.
workshops and internship:
2018 July (upcoming) - workshop "The Narrative impulse" by Salvatore Vitale & Sarker Protick at
ISSP 2018
2017 January - workshop week "How to Graduate in 4 days" guided by Thijs Groot Wassink and
Willem Popelier
2016 February - June - Internship with Anne Geene and SALVO collective
exhibitions:
2018 February - Tip-off | artist talk | Gallery Melkweg Expo, Amsterdam, NL
2017 November - Onze keuze 2017 | Gallery Wit, Wageningen, NL
2017 November - Bougie Art Foundation | CBK, Amsterdam, NL
2017 September - Pliable | Art Gallery Lhgwr, The Hague, NL
2017 August - Arty Party | Gallery Melkweg Expo, Amsterdam, NL
2017 July - Best of Graduates 2017 | Gallery Ron Mandos, Amsterdam, NL
2017 June - Graduation Show 2017 | Royal Academy of Art, The Hague, NL
2017 May - The Power of the Single Image | Gallery Melkweg Expo, Amsterdam, NL
2017 April - Wallpaper | Mama and Art Baby Gallery, Rotterdam, NL
2017 April - part of group exhibition | Filtro Koffie Bar, The Hague, NL
2016 January - Paradise | The Hague, NL
2015 May - part of group projection | Belfast Photo Festival | Belfast, NIR
awards and nominations:
2018 - shortlisted for "Luma Rencontres Dummy Book Award Arles 2018"
2017 - nominee for Award 2018 Seeking the Latest in Photography by Riga Photography Biennial
2017 - nominee for European Art Graduates Prize StartPoint Prize 2017
2017 - nominee for Heden Start Award Powered by GMW Advocaten
2017 - nominee for the Photography Department Award of the Royal Academy of Art, the Hague
Web: https://www.indreurbonaite.com/
Instagram: https://www.instagram.com/indreurbonaite/?hl=es