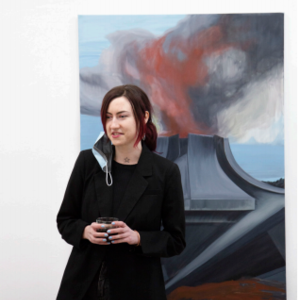 Claudine Pisarek (1995. Tychy, Poland)
She deals with social memory and myth. In a more or less literal sense she puts monuments to selected fragments of reality.
Education:
Graduated from the Academy of Fine Arts in Katowice with a degree in painting.
Shows and Exhibitions:
Solo shows:
2019: Wanderlust im Arbeitsland, Minus1.artspace, Katowice, PL Celebracja Niemieckiego Znaku Jakości, Sala Otwarta, Katowice, P
2021: Wanderin, Szara Gallery, Katowice, PL
Group shows:
2019: Digital Art International Festival, Sofia, BG Equinox, Brick City Gallery, Springfield (Missouri), US
2020: Deadline, Szara Gallery, Katowice, PL Gdzie są konfitury?, BWA Zielona Góra, PL Digital thought festival Cyfroteka IV, OFF Piotrkowska Gallery, Łódź, PL
Information of interest and additional information about the artist:
"One of the paths that I have been working on for the last 3 years is paintings accounts of visions that I experienced while covering over 15,000 routes in a restless and fantasy-filled land (Western Balkans). These visions touch upon constantly reinterpreted rituals and symbols"
"It can be said that the core of my recent activities is the undermining of the existence of an "objective" history, as each collective develops separate visions of it, and this happens over the centuries. History is considered here as a narrative designed primarily to propagate the values professed by the current power. Every nation knows this phenomenon from its own backyard. A story about belonging to a great nation, a story about a great history, the truthfulness of which is supposed to be legitimized by its past. There is no escape from this curiosity - every mythoburst initiative is soon replaced by a new mythical construction. It is the present that shapes the past, or rather its image, that is passed on to society"
"As an artist who draws from her surroundings, my potential residency intention would be to do a reaserch and filter the existing reality through the prism of local narratives. In consequence – extending the creative activities to the North European territory."
Instagram: https://www.instagram.com/claudine_pisarek/?hl=es
Facebook: https://www.facebook.com/claudine.pisarek.7