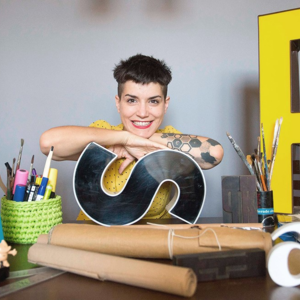 Valladolid, Spain, 1982 // Laura is a creative director and a graphic designer, as well as a keen enthusiast of typography and the visual world. By combining strategy and artistic sensitivity, she specializes in corporate identity design, graphic communication and editorial design.
She has also developed several art projects which have lettering as their main ingredient. The most important ones to date are:
Bad Music for Bad People. 2018 / CreaVa * Artist
To celebrate the European Day of Artistic Creativity, Laura created a collection of posters paying tribute to songs from early punk, where she freely and cheerfully plays with letters using different styles and techniques.
Valladolid con Carácter. 2018 / CreaVa * Curator
http://valladolidconcaracter.es/
Laura coordinated a research, documentation and experimentation project on typography, signs and urban lettering in her hometown, Valladolid. The project culminated in an exhibition at the local contemporary art museum, Museo del Patio Herreriano.
Sentires Bordados. 2020 / CreaArt * Artist
During the lockdown imposed by the COVID-19 outbreak, Laura was selected for the residency #ArtistasCreArtEnCasa, with her project Sentires Bordados. While captive at home, she shared her own experience of the lockdown and the feelings prompted by it on embroidery pieces. The choice of technique was not casual: embroidery has always been a domestic affair, which shifted from feminine to feminist by being used as a tool for political expression. Through this project, her embroideries, along with her concerns, leave the house and penetrate the public sphere, turning the personal into the political, which is more important now than ever.
________________________________________
Valladolid, Spain.1982 // Laura es directora creativa y diseñadora gráfica, una gran amante del mundo visual y de la tipografía. Combinando estrategia y sensibilidad artística, se especializa en creación de imagen corporativa, comunicación gráfica y diseño editorial.
Además, desarrolla proyectos artísticos con el diseño de letras como ingrediente principal. Los más destacados son:
Bad Music for Bad People. 2018 / CreaVa * Artista
Con motivo del Día Europeo de la Creatividad, Laura desarrolla una colección de posters-homenaje de canciones de los inicios del punk, donde juega con total libertad y despreocupación con las letras usando diferentes estilos y técnicas.
Valladolid con Carácter. 2018 / CreaVa * Comisaria
http://valladolidconcaracter.es/
Laura coordina un proyecto de investigación, documentación y experimentación sobre la tipografía, rotulación y escritura urbana en su ciudad natal (Valladolid), que tiene como colofón final una exposición en el Museo del Patio Herreriano.
Sentires Bordados. 2020 / CreaArt * Artista
Durante el periodo de confinamiento causado por el Covid19, Laura accede a la Residencia #ArtistasCreArtEnCasa con Sentires Bordados. Donde denuncia desde la cautividad de lo doméstico la situación vivida y sus sentimientos. Para ello, elige el bordado porque es una técnica que siempre se ha desarrollado en la intimidad del hogar, una técnica que pasó de ser femenina a feminista. Sus bordados y preocupaciones salen de su casa e irrumpen en lo público, convirtiendo lo personal en político y ahora más que nunca.
Web: https://www.lauraasensio.com/
Instagram: https://www.instagram.com/iamlauraasensio/