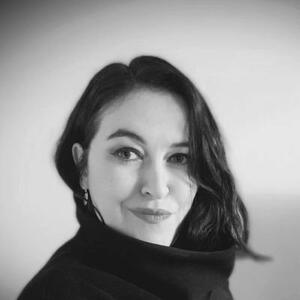 Laura Robertson is a writer and critic based in Liverpool, UK. She has been published in Frieze, Elephant, Hyperallergic, Art Monthly, ArtReview and a-n amongst others, and is the editor and co-founder of The Double Negative online magazine (since 2011). Trained as a visual artist, Laura is interested in the potential for art writing (and criticism) to be considered as a creative practice in its own right.
Education

2018-2020: MA Writing, School of Arts & Humanities, Royal College of Art, London, UK

2005-2008: BA Visual Arts (FIRST CLASS), School of Arts & Media, University of Salford, Greater Manchester, UK
Selected Exhibitions

Dec 2020-Mar 2021: Tell It Like It Is (Gallery 3), as part of L— A City Through Its People, Exhibitor.

A heritage and community project in collaboration with artist Ian Clegg that aims to explore and develop skills in photography, writing and storytelling. On show: a selection of archive images by Clegg, new prints on silver gelatin, accompanied by new creative-contextual writing by Robertson.

Jul 2018-Feb 2019: Six Memos, Exhibitor (with three new commissions).

European contemporary artists celebrating the works of late Italian novelist Italo Calvino.

Showing alongside Adam Lee (Liverpool), Albano Leal Ribeiro (Aveiro), Alice Pouzet (Clermont-Ferrand), Arnaud Caquelard (Rouen), Cristina R. Vecino (Valladolid), Esther Gatón (Valladolid), Fabio Tasso (Genoa), Garance Alves (Clermont-Ferrand), Hristina Ivanoska (Skopje), Luca Arboccò (Genoa), Ludomir Franczak (Lublin), Magdalena Franczak (Lublin), Pranas Griušys (Kaunas), Ricardo Suárez (Valladolid), Sébastien Camboulive (Rouen), Tjaša Kalkan (Zagreb), Yane Calovski (Skopje), Zlatko Kopljar (Zagreb). Curated by Branka Bencic, touring Sala Municipal de Exposiciones deL Museo de la Pasión, Valladolid, Spain, Galeria Labyrint, Lublin, Poland and St Georges Hall, Liverpool.

Jun-Jul 2015: LIV-BCN Festival, Curator.

A celebration of British and Spanish illustration and design.

Exhibiting John Wai (UK) and Mariadiamantes (Spain), at Bau University, Barcelona, Spain and the Exhibition Research Centre, Liverpool John Moores University.

Jun-Aug 2012: The Spectacle of the Lost, Curator.

Taking inspiration from America's best-known wildlife artist, John James Audubon, exploring man's relationship with nature, in particular with birds. What will humanity's relationship with the natural environment be in the future?

Exhibiting Audubon (USA) and Birds' Ear View Collective (UK, USA), at the Victoria Gallery & Museum, Liverpool.

Press: Steffan Hughes-Jones review; Art in Liverpool review.

Sept-Oct 2010: Hierarchies of Allegiance, Co-curator.

Linked by an interest in examining art historical figures and their sensitivity to myth, custom and symbolism, the works in the exhibition reference the uncanny, the darkly humourous and the melancholic.

Exhibiting Jonathan Baldock, Christian Newby and Pil and Galia Kollectiv (UK), at The Royal Standard, Liverpool

May 2010: No Soul For Sale, Co-curator.

To celebrate Tate Modern's 10th anniversary, the gallery hosted No Soul For Sale – a Festival of Independents. Bringing together over 70 of the world's most exciting independant arts spaces, non-profit organisations and artists' collectives to take over the iconic Turbine Hall with an eclectic mix of events, performances, music and film. Participants exhibited alongside each other without partitions or walls, creating a pop-up village of global art for visitors to explore.

Events and exhibiting work by members of The Royal Standard at Tate Modern, London.

Apr-May 2010: Bad Igloo Lust, Co-curator.

What does it mean to be a local or an international artist, in this means anything at all?

Exhibiting Pio Abad, Tim Foxon, Nick Cass, Matthew Hahn, Del Hardin Hoyle, Daniel Mort, Yuko Nasu, Michael White and Tom Varley, at The Royal Standard, Liverpool.

2009: All Change, Exhibitor.

All Change initiated a direct artist exchange between The Royal Standard and Rogue Artist Studios. Five artists from Rogue worked and exhibited in the gallery space, whilst eight artists from The Royal Standard travelled to Manchester in order to continue a dialogue between the two spaces.

Exhibiting alongside Mike Carney, Jemma Egan, Stephen Forge, Andy Foulds, Laurence Payot, Richard Proffitt and Gabriel Stones, and Andrea Booker, David Gledhill, Dave Griffiths, Magnus Quaife, Maeve Rendle, at The Royal Standard, Liverpool, and Rogue Artist's Studios, Manchester.
Web: https://laurarobertsoniswriting.cargo.site/
Twitter: https://twitter.com/doublenegativel?lang=es