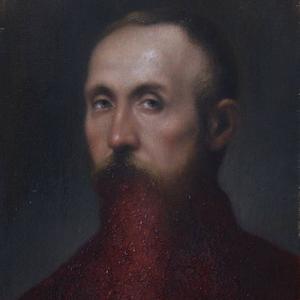 Marcello Nitti was born in Taranto (Italy) in 1988. In 2007, after graduating at the "Lisippo" Art High School, he enrolls at Lecce Fine Arts Academy, where he can grow his interest in figurativism. After completing the Bachelor Degree, he begins studying painting on his own. Moving from an in-depth analysis of the technical and formal facets of painting tradition, he embarks himself in the constant search and in the development of a personal poetics.
Between 2012 and 2015 he participates in several group as well as solo exhibitions and, in some cases, he collaborates to their organization.
Marcello Nitti nasce a Taranto nell'Aprile del 1988. Nel 2007 termina gli studi presso il Liceo Artistico "Lisippo"e si iscrive al corso di Pittura dell'Accademia di Belle Arti di Lecce, dove coltiva il proprio interesse per la figurazione. Conseguito il Diploma Accademico di I Livello., decide di proseguire autonomamente la propria ricerca, approfondendo la conoscenza degli aspetti tecnici e formali della tradizione pittorica e contemporaneamente cercando di sviluppare una poetica personale. Tra il 2012 e il 2015 partecipa a diverse esibizioni collettive e personali, collaborando all'organizzazione e allo sviluppo di alcune di esse.
Selected exhibitions
Welcome Home, 2015, Palazzo Ulmo, Taranto, group exhibition
Cubiculum, 2014, Castello Aragonese, Otranto (LE), solo exhibition
Primvm non nocere : phase I, 2014, Umuse, Ruffano (LE), group exhibition
Primvm non nocere : phase II, 2014, Umuse, Ruffano (LE), double solo exhibition with Davide Russo
Untitled, 2014, Fondazione Palmieri, Lecce, double solo exhibition with Davide Russo
Working Classics, 2013, Majazzin House Gallery, Altamura (BA), solo exhibition
CoExistence, 2013, Il Soppalco/136 Contemporary Art, Taranto, solo exhibition
Begin MagiNittiRusso, 2012/2013, Lecce, group exhibition
Web: http://www.marcellonitti.com/#portfolio
Instagram: https://www.instagram.com/marcello.nitti.paintings/