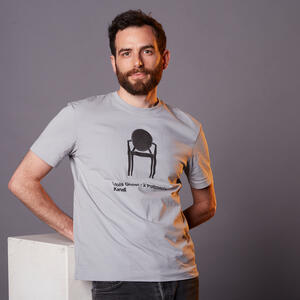 Martín Romeo (Carrara, 1986)
https://www.instagram.com/martromeo/
Martín Romeo es un artista visual ítalo-argentino. Explora la naturaleza, los cuerpos y tecnología, investigando la relación entre estos elementos a través de dinámicas esculturas, performances de realidad virtual e instalaciones multimedia. Ha expuesto sus obras en importantes contextos internacionales, y ha participado en varios programas de residencia en Italia y en el extranjero, como en Swatch Residency En shangai. Fue el fundador y director artístico de Toolkit Festival (2011-18) y el Festival de Proyecciones (2015-17). Fue director del Grado en Diseño de Medios del IED Universidad de Venecia. Es director del Máster en Artes Visuales en la Era Digital del IED Universidad de Milán, y profesor en NABA en Milán. Está representado por Arte Razonado - galería de arte digital. Fue artista del Pabellón de Italia para la Expo 2017 en Astana (KZ), curó el proyecto multimedia en el Pabellón de Venecia para La Biennale di Venezia 2018, fue mentor para Immensiva International VR Residency 2021 en Barcelona (ES) y para el metaverso proyecto de Bulgari 2022. Será mentor de Today at Apple Creative Studios 2022 y artista para Uffizi Diffusi 2022.
"Estoy convencido de que el diseño responde a un profundo impulso humano, tal como el instinto de supervivencia, el hambre, el sexo. Somos una especie que quiere cambiar su entorno. » - Enzo Mari entiende el diseño del espacio como una necesidad primordial de la civilización contemporánea. Con la evolución de las infraestructuras tal necesidad ha sido desarrollada también en la intangibilidad de lo virtual. Cuáles son las necesidades detrás del nacimiento del metaverso y lo que precedió a Meta? Second Life e incluso antes Snow Crash son los primeros ejemplos de la universo artificial nacido del deseo de personalizar y diseñar un mundo en su propia imagen. "¿Por qué unirse al mundo de otra persona y tener que cumplir con sus reglas, cuando tienes los medios y recursos para crear las tuyas? Sin embargo, estos universos no prescinden del valor económico, por al contrario, se han convertido en nuevos mercados de inversión.
Me gustaría realizar una investigación post-humana considerando a todos los actores presente como parte de un ecosistema: físico, no físico, digital, virtual y elementos digitales. El metaverso es parte de este nuevo ecosistema-mundo con que debemos interactuar en vista del nacimiento de una nueva "civilización". Humano El verso nos lleva a reflexionar sobre una cuestión antropológica del cuerpo hoy. Donde, en su lugar, contrastan mundos hechos de nuevas alianzas entre especies diferentes y habitadas por seres permeables, híbridos y múltiples, como las criaturas fantásticas inventadas por Carrington."
Martin Romeo is an Italian-Argentinian visual artist. He explores nature, bodies, and technology, investigating the relationship among these elements through dynamic sculptures, vr performances, and multimedia installations. Romeo's research reads the world and intimately perceive it, thus dividing his production into tangible and intangible works: tangible works give shape to data, while the intangible ones return data in the form of experience.
He has exhibited his works in important international contexts, and has participated in various residency programs in Italy and abroad, such as at the Swatch Residency in Shanghai. He was the founder and artistic director of Toolkit Festival and the Screening Festival in Italy. He is director of the MA in Visual Arts in the Digital Age at IED University of Milan, lecturer at NABA in Milan and professor at ISIA in Urbino. He is represented by Reasoned Art - digital art gallery.
"I would like to research on the concept of post-human considering all the actors present as part of an ecosystem: physical, non-physical, digital, virtual and phygital elements. The metaverse is part of this new world-ecosystem with which we must interface in view of the birth of a new "civilization". Human Verse's project leads us to reflect on an anthropological question of the body today where, in its place, worlds made of new alliances between different species and inhabited by permeable, hybrid and multiple beings, such as the fantastic creatures invented by Carrington."