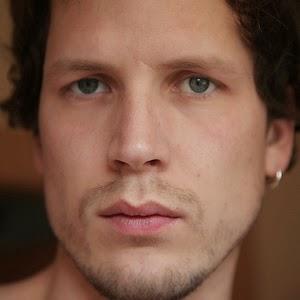 Mieszko Bavencoffe (1984) lives and works in Rouen.
Experience Artistic:
01/2019 Residence at the "Collectif d'en face" for a month with a group of artists with an exhibition at the end on the theme of means of locomotion.
01/2018 Writing of giant poems in the mountains near Grenoble for a week then photographs of the result with a drone for a personal project for an exhibition in 2018.
11/2017 Workshop organized by the European Union "Creart" in Lublin in Poland with the artist Katarzyna Kozyra: video, writing, performance.
03/2017 Residence in the workshops of the city of Rouen during 6 months painting of two sets of tables ("Whoever reads this ...", 20 rooms, and "Food organic ", 6 pieces) and two series of videos (" personal Development ", 10 videos and" "The real music", 8 video clips).
07/2016 Residence Hall in Rouen, gallery, for 2 months followed by a exposure.
12/2015 online exhibition http://www.early-work.com/fr/76_mieszko-bavencoffe the series of sculptures "phantom objects".
02/2015 Workshop in Canterbury (twin city with Rouen) realization of a false crosswalk in the middle of the university.
02/2015 Workshop "do and say," exercise performance led by Camille Bondon.
10/2014 Workshop in " the Linerie "creating a literary landscape from the idea of an" Office of Direktor "of this former factory.
04/2014 writing Workshop with Valerie Mrejen Beatrice Cussol and Tania Vladova (4 days).
12/2013 watercolourist antique prints of St Romain gallery in Rouen (2 years).
07/2013 Creating a micro-publisher of "Seeming Editions' to publish drawings, lithographs, computer work.
05/2013 WorkShop writing with Beatrice and Anna Cussol Kawala: creation of a performance "Silent Scrip" (4 d.)
06/2013 WorkShop "Garden" - performance: "of Convenience": performance with themed mock rituals.
Solo exhibitions:
26/10/2016 "Respect", " exhibition place, "Rouen, exhibition of a work in a temporary space.
09/09/2016 # signéfurax following the residence hall. Mirrors works of my mental space combining recent and ancient popular culture in different treatments on linguistics and plastic.
01/09/2016 "# signéfurax" Rouen, Hall, exhibition of dozens of pieces like a mental museum (following a residence all summer 2016).
03/25/2015 "Little Hi" Cadine Navarro "opens the doors of his apartment facing the Rouen Cathedral, appears with writing on the front of building (personal exhibition).
05/2014 "POST, tHE RETURN" Stork Gallery, Rouen creating a literary landscape from a table.
Group exhibitions:
29/12/2017 Expo / DJ Set water street robec in Rouen, exhibition of one of my paintings "VEGGIE FRIENDLY SOUP".
15/10/2017 "AutisticCompain" FullB1 Gallery Rouen, three paintings.
06/10/2016 "FLAC" contemporary art fair in Hall (76).
05/20/2016 "Building 314" hospital of St-Etienne-du-Rouvray, led by a puppet show my clothing reciting literary passages.
17/12/2015 "Outside the walls" Point Limit gallery appropriationism exposure of a copy of a painting by the artist Mickaël Halley,
10/03/2015 "Sheep" in HR stud, exhibition of drawings
11/2014 Lucien Festival, School of Architecture Darnétal paintings, oil painting: portraits of a little monstrous beings.
09/2014 "Working Hard" Mam Gallery, Rouen and volume tables: reflections on Art with use of writing.
04/2014 "Bibliology" Frac high-Normandy: Video Destruction of a copy "home-made" artists' books "AMMCQ AIYCI IAOSA QIEIQ MAOSC OIGOO QIMWI WIAGI YAQA" of Anonymous.
01/2014 "OIL" Rouen: installation, cleaning of this attempt place very dirty.
12/2012 Gallery 75, Rouen etching, drawings, portraits.
06/2012 Free entrance # 2, Transmission Association, Rouen Sculpture chair crossing a large lamp, "Gravity of light".
05/2012 "Out the Walls "Mam Gallery, Rouen pencil drawings on the baseboard of the room: inventory objects of a house shown at the same size.
05/2011 Free Entrance # 1 Transmission Association, Rouen furtive drawings gray felt people in the underground gallery
12/2010 55, Rouen. Watercolors, grape size "Self Portraits".
Making a Dreammachine used by the singer Soko Because Music for his European tour 2015.
Music Creation and participation in the Soeur group with Mickaël Halley soeur.bandcamp.com, poetry improvised electronic music Acid , concerts made during viewings in Rouen, preparing a tour, construction and mounting of clips.
Education:
2015 DNSEP Master Fine Arts with honors from the Esadhar Rouen science graduate and school of life.
Web: https://mieszko.fr/
Instagram: https://www.instagram.com/mieszkobavencoffe/?hl=es