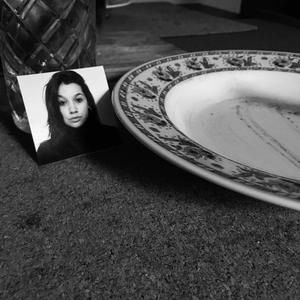 Silvia Mazzella (Genoa, 1993).
Born in Genoa in 1993. Her work with photography is focuses on symbolism of interpersonal and social space and on the self-determination of being in relation to the contemporary context. Her favorite author is Georges Perec. She is Libra ascending in Scorpio. In May 2019 she founded MIXTA, a cultural association of artistic research in Genoa with Arianna Maestrale and Giulia Ottonello.
Her work focuses on the photographic experimentation of the symbolic figure of feminine in the contemporary context, on topics on unconscious memory, sexuality and gender identity.
Studies :
2012: Diploma at Paul Klee Art School, Genoa.

2012/2015: Bachelor's degree in photography at IED Milan.

2015/2016: Scenography course at the Academy of Fine Arts, Genoa.

2016/2018 Master in Contemporary Photography at Fondazione Modena Arti Visive ( FMAV )

2019 - post-graduate student in photography at the Academy of Fine Arts, Genoa.
Exhibitions:
​-2017
September: 99, Palazzo Ducale, Sala Dogana, Genoa

July: The Summer Show, Mid-Term, curated by Filippo Maggia, FMAV, Foro Boario, Modena
-2018
February: SOMA Exhibition,collective exhibition for Arte Fiera 2018, Via Oberdan 10, Bologna

February: 'Corpi estranei', curated by Chuli Paquin and ERRESULLALUNA, Antica farmacia, Parma.

June: Madame Gerard curated by Filippo Maggia, MATA, Modena

October: Primule, exhibitions by di Silvia Mazzella and Benedetta Boveri curated by Silvia Mazzella texts by Virginia Lupo and Sofia Torre, Sala Dogana in Palazzo Ducale, Genoa
-2019
Young and Lovely, collective exhibition curated by Erica Rigato in Ex Ospedale Psichiatrico Genoa

When forms become attitude, WFBA, collective exhibition curated by Mixta, Genova

MNEMOSINE, collective exhibition curated by MIXTA in collab *Alleortiche festival, Genova
-2020
The space between, collective exhibition curated by Chiara Pavolucci in Palazzo Rasponi 2, Ravenna

The Body, collective exhibition curated by A60 contemporary, Milano
MIXTA​
on May 4th 2019 in Genoa she founds MIXTA - Cultural Ass. of artistic research, where she is co-founder with Arianna Maestrale and Giulia Ottonello
Divago ed.0, collective exhibition in four space in the historical center of Genoa

When forms become attitude, collective exhibition curated by MIXTA, Genoa

MNEMOSINE, collective exhibition curated by MIXTA in collab *Alleortiche festival, Genova

111 Cubetti di zucchero by Viviana Dal Lago in Sala Dogana Genoa curated by Mixta

Divago ed.1 Via del Campo, Biennial festival of contemporary art of urban regeneration in Via del Campo Genova with the collaboration with Pinksummer Gallery

CRATILO by Arianna Maestrale site specific installation in secret bar curated by Mixta, Genoa
Web: https://www.silviamazzella.com/
Instagram: https://www.instagram.com/silviamazzella.p/