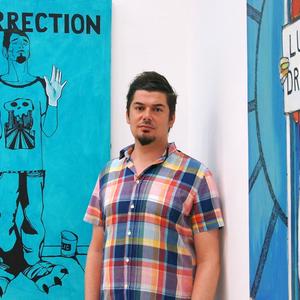 Tomislav Šilipetar was born in Zagreb,07.08.1978.
In 2014 he graduated from the Academy of Fine Arts in Zagreb in the class of Igor Rončević-
Painting Department. In 2015 he becomes a member of HDLU. In addition to many group
exhibitions, he was also quite independent. He is the winner of the rector's award for excellence in
2013. The paintings arevmade mostly in acrilic, and the themes vary from solitude and isolation to
the very existence of human existence in the society that condemns. It favors the simple colors,
and the line that goes perfectly with the total preoccupation of getting out of the 'ubiquity' of the
thickening life of academia.
In 2016 he gained the status of an independent artist.
http://www.tomislavsilipetar.com/
Solo exhibitions:
2014- Karas Gallery - 'Contralateral mental images'
2015- GALLERY OF EVENTS - 'ONCE MENTAL PICTURES'
2015- Karas- 'Surrender' Gallery, Drawings and Sketches.
2016- Gallery of Arts Association of Smiles - 'Sequences'
2017- City Gallery of Varaždin- 'SALUT'
2017- Galerija Razvid- 'BEARD ART'
2017- Prica Gallery, Bunker- 'Mental Pictures'
2018- Gallery Poumar, Nova Gradiška - 'cadres of mental film'
2018-Gallery of Arts Association of Smiles - 'formations'
GROUP:
2009-2014- Group exhibitions of ALU, Zagreb
2012- Galurija, ALU- 'Sketchbook'
2014- Gallery Inkubator- 'Start Up'
2015- Gallery moment 39- The magic. Creation.
2015- experimental film "BE ME" - / 'fu: bar / glitch art exhibition- Gray Gallery
2015- Exhibited group exhibition of members of HDLU.- HDLU home gallery.
2015- Organized group exhibition. 'ARTUM' - Umag Salon - Umag Museum
2015- Animated Group Exhibit- Exhibition of Illustrations and Comics 'CRTOMAT' City Museum
Virovitice
2016- Exhibited group exhibition of members of HDLU.- HDLU home gallery.
2017- Exhibited group exhibition of members of HDLU.- HDLU home gallery.
2018- Gallery razvid, 'bienalle of aquarell'
2018- Mural on the walls in city of Zapresic on the wall of Razvid Gallery.
2015- Membership of HDLU.
2017- Membership of HZSU.
Statement of the artist.
As an artist who always tries to capture the humanity and beauty of the lunatic, a situation that is
not the most impressive for the masses, I find myself in a wonderful position to transfer part of
the vision of humanity. The observer becomes the one who is judging, and I am the one who
conveys the news. The cycle of a pictures that has been exhibited throughout the year and
continues to point not only to the problem of the art scene that is overwhelmed with the forms
and the canvas, but also points to what it is, and that is empathic painting. Not only academic
throwingof the paint and painting on canvas, but an image that just becomes a drawing and
sketch of the moment. As an artist I feel like I do not have to lie and deceive people around me.
Everything revolves around the true things I translate into the world of fantasy and symbolism.
Maybe somehow to people it looks like a comic, but that's just it ... a painter who tells the story
and becomes a comic strip artist. He is the author of works ... a diary through color and strokes.
Love through the line and medium.