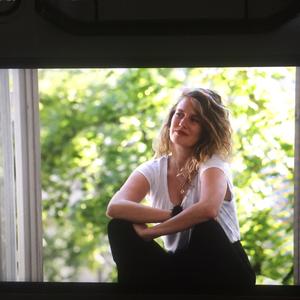 Vesna Salamon was born in 1985. in Zagreb. She received her master's degree from the graphics department at the Academy of Fine Arts in Zagreb. She also studied at the Jan Matejko Academy in Krakow and completed two post-master programs at the Royal Institute of Art in Stockholm.
She has been awarded with Audience Award at Art Award T-TH@msu.hr 2015 in Zagreb and represented Croatia and Sweden at the 5 Moscow International Biennial for Young Art. In her artistic practice so far, she has participated in more than 40 international exhibition and performances.
Vesna Salamon is a Croatian artist based in Zagreb, Croatia, whose work bridges the realms of environmental science and cultural history.
Marshaling installations, sculpture, printmaking and performance, her projects often stem from fieldwork to online-social media world. The world where people have communication habits developed with symbiotic technologies, smartphones and gadgets what increasingly mediates our every-day lives, Salamon's approach further reflects upon the mystical object in the techno-globalized age.
education

2020 Konstfack, University of Arts, Crafts and Design, Master's programme in CRAFT, Stockholm, Sweden

2016 Research-Lab Architectural Theory and History, Post-Master level, Royal Institute of Art, Stockholm, Sweden

2017 SAAS-FEE Summer Institute of Art, Berlin, Germany

2015 Program for professional artist's development, Royal Institute of Art, Stockholm, Sweden

2012 Academy of Fine Arts Zagreb, Art education and Graphic art - BA and MA, University of Zagreb, Croatia

2007 CEEPUS Central European Exchange Program for University Studies, Jan Matejko Academy of Fine Arts, University in Kraków, Poland
solo shows

2020 Vitrage, Cité Internationale des Arts, Paris, France

2020 Phantom Pain, Garaža Kamba gallery, Zagreb, Croatia

2018 Half Life, Greta Gallery, Zagreb, Croatia

2017 New Years Eve, The Publisher gallery, Berlin, Germany

2017 Haharibo, Izložbeni salon Izidor Kršnjavi, Zagreb, Croatia

2017 TechnoBearing, Mellanrummet, Royal Institute of Art, Stockholm, Sweden

2016 Inventur, Mejan Studio, Berlin, Gemany

2016 Accumulative Happiness, Mejan Gallery, Stockholm, Sweden

2016 Extreme Planet Makeover, Mellanrummet, Royal Institute of Art, Stockholm, Sweden

2016 Aurora, Swedish Polar Research Station, Abisko, Sweden

2014 Interval, Greta Gallery, Zagreb, Croatia

2010 Rhythm 4, Academy of Fine Arts Zagreb, Croatia
Web: https://cargocollective.com/vesnasalamon
Instagram: https://www.instagram.com/vesnasalamon/?hl=hr