Summer CreArt Artist In residence in Kaunas hosted by Artkomas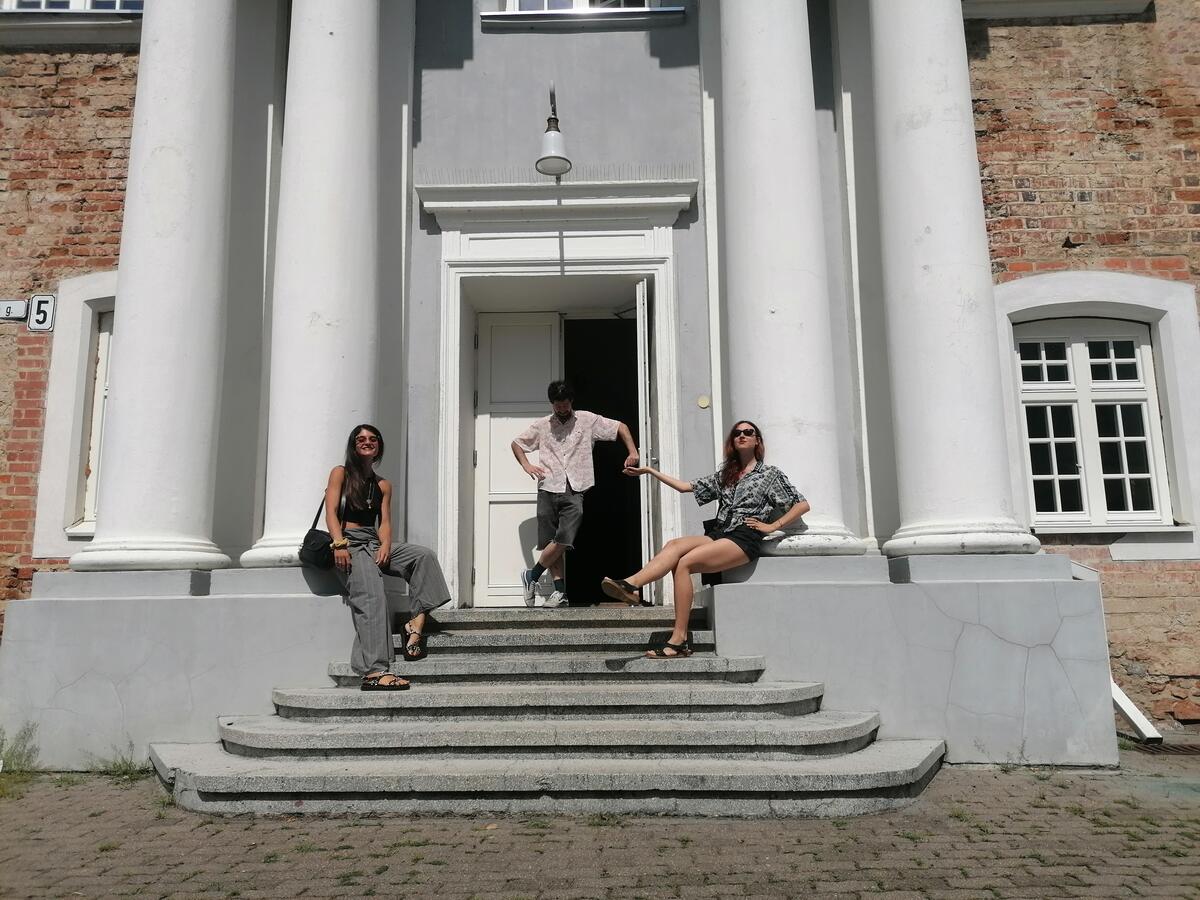 Artkomas has selected the following artists for the 1 month CreArt Artist in residence Program in Kaunas between July-August:
Julio Falagán
Benadetta del Coco
Klaudia Pisarek
Szymon Popielec
The organization will cover trip, accommodation, studio, and production costs and wilkl organize a final exhibition in Galerija Ars et Mundus.
JULIO FALAGÁN (Valladolid, 1979)
Julio Falagan graduated in Fine Arts at Salamanca University. His work has been recognized with numerous awards and scholarships, such as: Scholarship Real Academia de España en Roma 2013, Residency Atelierhaus Salzamt Austria, Residency Panal 361 Argentina, Casa Velazquez 2009 Scholarship, AVAM Procesos 2009 Scholarship,
2008 Pancho Cossio National Painting Award, 2004 Generacion Honorable Mention Caja Madrid. His work has been exhibited in Galleries and Art Centers in countries such as the USA, Brazil, Italy, Lithuania, Romania, Australia, Argentina, Senegal, South Korea, France, Portugal, Austria or Germany.
"Project Land-escape" The project I intend to develop on this residency center upon hybrid works drawing on Spanish and Lithuanian popular cultural icons. I will base this work on typical landscape paintings acquired in Spain and cultural material found in local markets or thrift shops in Kaunas. My intention is to create great transnational paintings that reflect aspects of multiple cultures. I propose a journey in space and time that takes us to new fictitious place. I am also very enthusiastic about performing collaborative works with local artists who can help me understand the customs and ways that will lead us to this new place.
http://www.juliofalagan.com/
BENEDETTA DEL COCO (Lecce, 1994)
Italian artist, graduated from the Academy of Fine Arts of Lecce. ll artistic language plays between painting, drawing and installation where the sign serves as a common denominator to all creative experiences. Archaic signs and primitives that refer to an inner visual imaginary, generated by a processual stream of consciousness transcribed as a form of automatism psychic. The gesture and the 'writing' is the affirmation of a present, an act of introspection flanked by a sober balancing chromatism symbolically the whole composition.
"Project Blu Estasi" My proposal involves the creation of six canvases of 150x50cm each, made with acrylic and pastels, installed on a single wall in a sequential manner, so that they can be enjoyed like an immersive flow. Balance, time and waiting are told using a language of signs traced according to the principle of automatic writing. It is the subjective perception of an incessant flow of instants, and therefore, of a composition with no apparent possibility of evolution, in a search for definition of a rhythm that restores tensions and deep stasis. Visual and expressive processes of a present time, where everything is mobile but always equal to itself in a stream of consciousness rhythmically indefinite and sensitive that combines mind and body in a constant relationship with the memory. The background blue made with a swirling pictorialism defines an apparent motion 'Static', where short segments overlap that mark the passing of time according to a constantly restored order.
https://www.instagram.com/___studiob/?hl=es
CLAUDIA PISAREK (b. 1995 in Tychy, PL)
graduated from the Academy of Fine Arts in Katowice with a degree in painting. Painter, photographer, wanderin. She deals with social memory and myth.
In a more or less literal sense she puts monuments to selected fragments of reality.
Solo shows:
2021 Wanderin, Szara Gallery, Katowice, PL
2019 Wanderlust im Arbeitsland, Minus1.artspace, Katowice, PL; Celebracja Niemieckiego Znaku Jakości, Sala Otwarta, Katowice, PL
Group shows:
2020 Deadline, Szara Gallery, Katowice, PL; Gdzie są konfitury?, BWA Zielona Góra, PL; Digital thought festival Cyfroteka IV, OFF Piotrkowska Gallery, Łódź, PL
2019
Digital Art International Festival, Sofia, BG; Equinox, Brick City Gallery, Springfield (Missouri), USA
One of the paths that I have been working on for the last 3 years is paintings accounts of visions that I experienced while covering over 15,000 routes in
a restless and fantasy-filled land (Western Balkans).
These visions touch upon constantly reinterpreted rituals and symbols.
It can be said that the core of my recent activities is the undermining of the existence of an "objective" history, as each collective develops separate visions of it, and this happens over the centuries. History is considered here as a narrative designed primarily to propagate the values professed by the current power. Every nation knows this phenomenon from its own backyard. A story about belonging to a great nation, a story about a great history, the truthfulness of which is supposed to be legitimized by its past. There is no escape from this curiosity - every mythoburst initiative is soon replaced by a new mythical construction. It is the present that shapes the past, or rather its image, that is passed on to society.
As an artist who draws from her surroundings, my potential residency intention would be to do a reaserch and filter the existing reality through the prism of local narratives. In consequence – extending the creative activities to the North European territory.
SZYMON POPIELEC (1989 in Szczebrzeszyn (Poland)
Intermedia artist, performer. Born in . He graduated from Barnard Morando high school in Zamość and the College of Fine Arts at the Maria Curie-Skłodowska University in Kazimierz Dolny. He is a graduate of the Faculty of Arts at the Maria Curie-Skłodowska University in Lublin. He completed his diploma in 2016 in the prof. Jan Gryka's atelier.
In the years 2011-2012 he was a scholar at the Constantine the Philosopher University in Nitra. In 2012, he became a laureate of the national competition Limits of Drawing.
http://www.arttomorrow.pl/pl/artysta/224/971
"Molecular threshing machine" I am traveling in an outfit I made on the basis of a military clothes. I painted military attributes in a fancy camouflage and combined them with elements from everyday life. Every day I take a painting with dimensions of 33x22 cm with me. I put color spots on the canvas (from 2013) in such a way that the spots start to form bars, then the bars connect and new forms are created. Smultaneously, during this activity, I create objects from things found in a given area.
Photo gallery
---
Return to CreArt News