The duo Nomeda & Gediminas Urbonas selected for the Dual Show "Hiperadaptability" in Meštrović Pavilion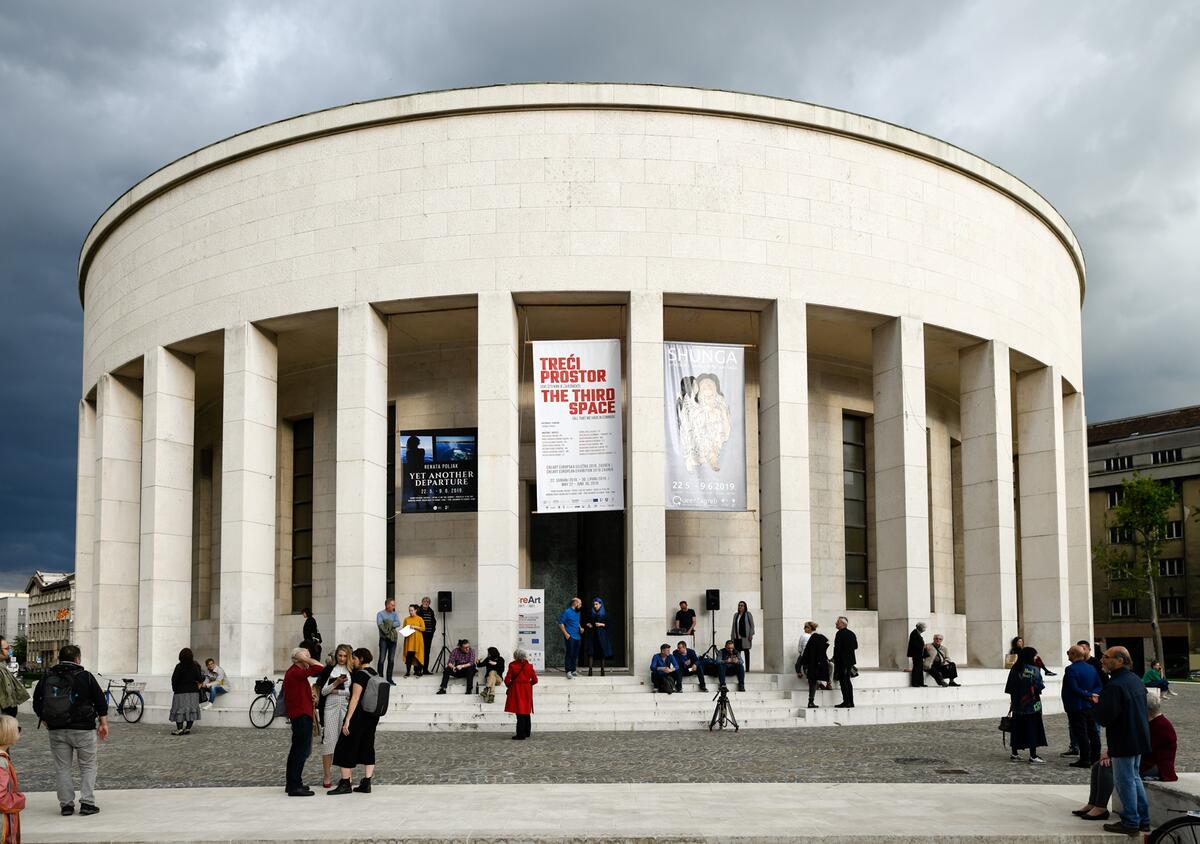 Croatian Association of Fine Artists and the curator Nikola Bojić, has selected the duo from Kaunas Nomeda & Gediminas Urbonas for the CreArt Dual Exhibition "HYPERADAPTABILITY", together with the Croatian artist, Nikola Bojić. The show will be presented in Zagreb (Croatia) from September 3rd until September 16th in Meštrović Pavilion.
"HYPERADAPTABILITY"
The grand narrative of capitalism often relies on Darwin's theory of natural selection according to which the strongest survive and the weaker ones lose and gradually disappear along with their genetic material. But what if "the weaker ones" have actually never disappeared, but are incorporated into dominant entities from where they speak from "within" and produce continuous, radical metamorphoses. Such a view of all living evolutionary processes is not just a fictional counterpoint to the theory of natural selection but one of the fundamental biological principles that enabled the evolution of life on Earth, the emergence of species, ultimately ours as well. In the 1960s, the biologist Lynn Margulis published a theoretical article explaining the formation of more complex cells from the simple ones through endosymbiosis – a biological process in which dominant cells "digest" weaker ones, but the weaker ones do not disappear but continue to (co)exist within the dominant cells, changing them into more complex cell types, and gradually organisms as well. In that sense, being "digested" does not imply destruction, but transition, metamorphosis and hyper-adaptivity to new circumstances.
From the early industrial age to the present day, civilization has gone through several major technological revolutions that have permanently changed the ways we communicate, work and (co)exist. The phrase "the revolution devours its children" emerged in the context of the French Revolution resonating well with the course and outcomes of technological revolutions. What is being devoured is us – the children of technological progress with the planetary ecosystem as a collateral victim. Yet, what is created throughout this process is an open question. According to the theory of endosymbiosis, the unpredictable mutual digestion of organic and inorganic matter characteristic for the Anthropocene turns the evolutionary processes towards the genesis of hybrid organisms adaptable to the extreme biological and techno-climatic conditions. The human species will no longer play a dominant role in these processes.
By juxtaposing the two artistic practices/researches in the field of ecosystemic art and bio-art, the exhibition will examine the future in which endosymbiosis creates the circumstances for the emergence of hyper-adaptive organisms as biological, artistic and mental tactics for coexistence in the era of radical ecosystemic crisis.
Matej Nišević
Futuristic metamorphoses and the evolution of marine organisms due to Nano plastic pollution and healthy aquatic ecosystems are the topics of Matej Nišević's works (Sisak, 1996). In addition to bioart, which he approaches through objects and installations, he is also interested in land art. He is a first-year graduate student of Graphic Arts at the Academy of Fine Arts, University of Zagreb, in the class of prof. Mirjana Vodopija and co-mentor Sunčica Ostoić, MA. He studied biology at the Faculty of Science, University of Zagreb in the 2018-2019 academic year (Department of Biology, course: Protista Including Molecular Biology and Genetics), its Botanical Garden and the Institute for Marine and Coastal Research in Dubrovnik (research and scientific education on plankton and the ecosystem of the Adriatic Sea, 2019-present). In 2019-2020 he held courses on botanical illustration, Botanical Garden of the Faculty of Science in Zagreb.
Nomeda & Gediminas Urbonas
Nomeda & Gediminas Urbonas are artists, educators, and researchers working at the Program in Art, Culture and Technology, Massachusetts Institute of Technology in Cambridge, USA and in Kaunas, Lithuania. Nomeda is a PhD researcher at Norwegian University for Science and Technology, Trondheim, Norway and a research affiliate at MIT. Gediminas Urbonas is a tenured associate profesor at the MIT Program in Art, Culture and Technology, Department of Architecture, School of Architecture and Planning, M.I.T.
Urbonas are co-founders of US: the Urbonas Studio, an interdisciplinary research practice that facilitates exchange amongst diverse nodes of knowledge production and artistic practice in pursuit of projects that transform civic spaces and collective imaginaries. Combining new and old media, their work frequently involves collective activities contributing to the cross-disciplinary exchange between several nodes of knowledge production: network and participatory technologies; sensorial media and public space; environmental remediation design and spatial organization; and alternative planning design integration. They also collaborate with experts in different cultural fields to develop practice-based artistic research models that allow participants—including their students—to pursue projects that merge urbanism, new media, social sciences and pedagogy to critically address the transformation of civic space, ecology and new climatic regime.
Urbonas have exhibited internationally including the São Paulo (twice), Berlin, Moscow (twice), Lyon, Gwangju, Busan, Taipei Biennales, Folkestone Triennial – and Manifesta and Documenta exhibitions – among numerous other international shows, including a solo show at the Venice Biennale and MACBA in Barcelona. Their work was awarded a number of high level grants and residency awards, including the Lithuanian National Prize (2007); a Prize for the Best International Artist at the Gwangju Biennale (2006) and the Prize for the best national pavilion at the Venice Biennale (2007). Urbonas are cofounders of the JUTEMPUS interdisciplinary art program (1993), the first independent artist-led initiative in Lithuania; Vilnius Interdisciplinary Lab for Media Art (VILMA); the VOICE, a net based publication on media culture (www.balsas.cc); they are co-founders of the Transaction Archive and codirectors of the Pro-test Lab Archive. Their writing on artistic research as form of intervention into social and political crisis was published in the books Devices for Action (2008) by MACBA Barcelona and Villa Lituania (2008) by Sternberg Press. Urbonas co-edited Public Space? Lost and Found (MIT Press, 2017) that brings together artists, planners, theorists and art historians in an examination of the complex inter-relations between the creation and uses of public space and the roles that public art plays therein.
Urbonas 5 year-long research project Zooetics exploring the potential to connect with the noetics and poetics of non-human life in the context of the planetary ecological imbalance, concluded in 2018 with the symposium at MIT and opened a new research program focusing on sympoiesis. Urbonases curated the Swamp School – future learning environment at the 16th Venice Architecture Biennale 2018. The book Swamps and the New Imagination: On the Future of Cohabitation in Art, Architecture and Philosophy published by Sternberg Press and distributed by MIT Press, is forthcoming in 2021.
Their work is included in the collections of Museu d'Art Contemporani de Barcelona - MACBA, FRAC – Nord-Pas de Calais in Dunkerque, Helsinki Art Museum, Kiasma – Museum of Contemporary Art in Helsinki, Schwerin State Museum of Art in Germany, Centro per l'Arte Contemporanea Luigi Pecci in Italy, National Gallery of Art in Vilnius, Lithuania among others.
Urbonas taught and lectured extensively internationally. Full-time teaching positions include Norwegian University for Science and Technology (2005-2009). Currently they are Visiting Professors at Vytautas Magnus University in Kaunas, Lithuania; at the Central Academy of Fine Art in Beijing; at Nuova Accademia di Belle Arte in Milano, and also Associate Faculty at the Dartington Arts School in Dartington, UK.
Urbonas are currently working on several large scale commissions including the Copenhagen Art Hub in Denmark, the Inter Arts Center (IAC), at Lunds University in Sweden and Art In Urban Development Project Visborg. These are research projects that investigate movement in artistic practice towards more complex spaces of public/private contestation within the use of AR/VR technology and shifts toward new environmentalism in public space discourse and contemporary understandings of nature.
http//www.nugu.lt/us
---
Return to CreArt News