CreArt Local Seminar in Lublin "* - that is not what you are thinking of...". 26 October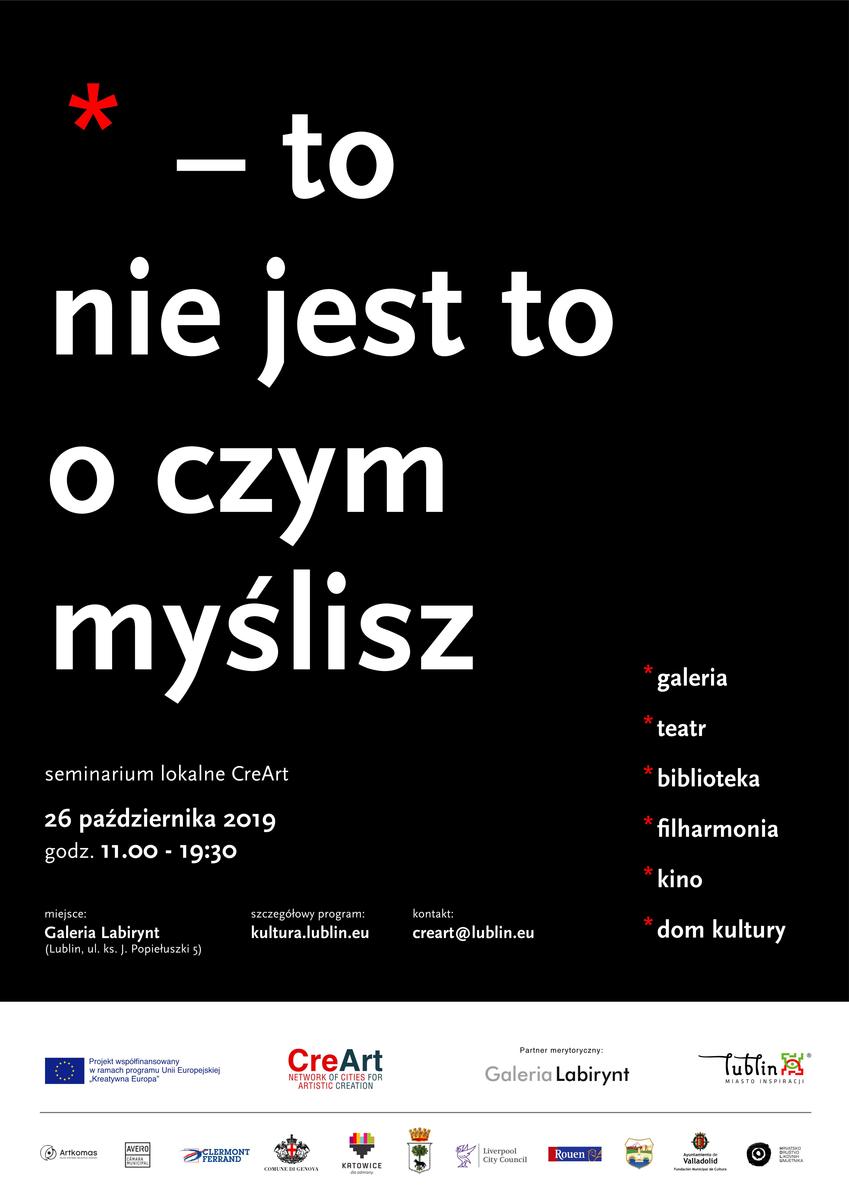 The subject of the seminar will concern issues related to the function and role of cultural institutions and art in the 21st century, which become a place of dialogue, possibilities, openness, inclusion, diagnosis and solving social problems. During debates moderated by well-known experts (Edwin Bendyk, Margaret Amaka Ohia-Nowak, Monika Dubiel, Mirosław Filiciak, Roman Batko), we will consider the issues of multiculturalism and the place of foreigners in public space / cultural space, accessibility and inclusion of people with disabilities in the activities of art institutions, an art institution in the context of contemporary challenges such as climate change, new media and digital tools, and forms of managing an art institution as a post-modern public institution.
The seminar will take place on October 26, 2019 in Labirynt Gallery in Lublin.
The event is organized as part of the "CreArt. Network of Cities for Artistic Creation" project co-funded by the Creative Union program of the European Union.
* Gallery, theater, library, philharmonic, cinema, culture centre
"* - that is not what you are thinking of..." CreArt Local Seminar – agenda:
11:00 – 11:50 – The Impossible is Certain, i. e. the optimism of the apocalypse. Edwin Bendyk
12:00 – 12:50 – Intercultural Communication. Margaret Amaka Ohia-Nowak
13:00 – 13:50 – Invitation Workshop. How to Reach Audience Effectively. Monika Dubiel
15:00 – 15:50 – Public Space and the Climate Crisis. Daniela Jaszczuk, Mateusz Jurewicz, Julia Barbasiewicz (Youth Climate Strike)
16:00 – 16:50 – Internet and Expanding the Field of Culture. Mirosław Filiciak
17:00 – 17:50 – Searching for a New Language and Form – Managing an Art Institution. Roman Batko
18:00 – 19:30 – Closing discussion moderated by Edwin Bendyk
Attachments
Brochure
Photo gallery
---
Return to Local Seminar