Opening CreArt Exhibition Six Memos 6th July in Municipal Gallery of Las Francesas (Valladolid)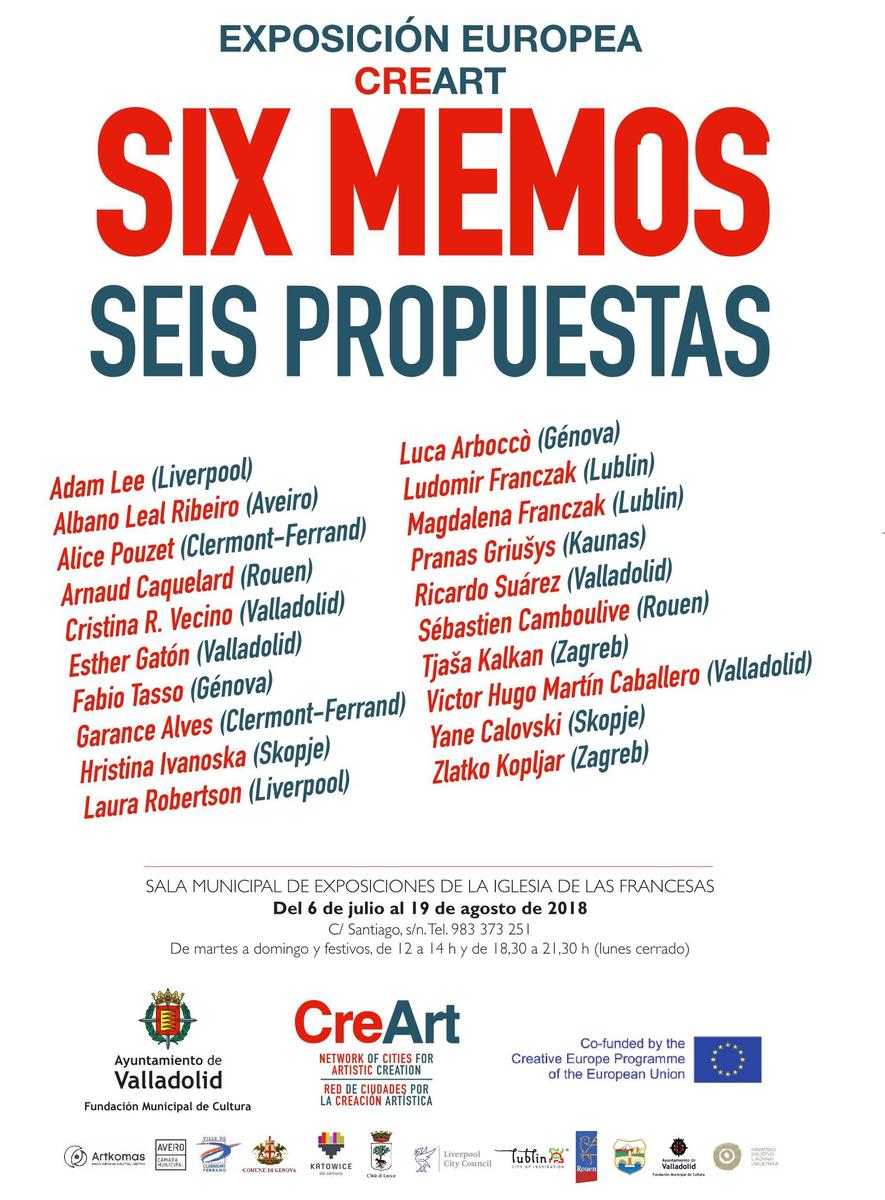 Six Memos is the first European Exhibition that we present within the program of activities of the second phase of the CreArt Project. Network of Cities for Artistic Creation (2017-2021), cultural cooperation project led by Valladolid, supported by the European Commission and with the participation of 11 other medium-sized European cities: Clermont-Ferrand and Rouen (France); Zagreb (Croatia), Kaunas (Lithuania), Liverpool (United Kingdom), Genoa and Lecce (Italy), Lublin and Katowice (Poland), Aveiro (Portugal) and Skopje (Macedonia).
The curator Branca Benčić, has selected 20 artists from the different cities of the Network among 93 projects submitted in Open Calls. The exhibition Six Memos is based on the unfinished and posthumous work of the Italian novelist Italo Calvino: Le lezioni americane / Six proposals for the next millennium (written in 1985, and published in 1988). The works of the participant artists point to fractures and potentialities with the background ideas of Six proposals for the next millennium, creating flexible associations and new meanings, using different means, such as photography, video, drawing, painting, objects, installation or text. The artists focus their interest and examine the notions of the landscape, the changing nature, the human condition, the relationship between subjects and objects, the artistic production itself, identity and memory.
Six Memos will be presented in Valladolid (Sala Municipal de las Francesas), Lublin (Galeria Labirynt) and Liverpool (St. George Hall).
Participant artists: Adam Lee (Liverpool), Albano Leal Ribeiro (Aveiro); Alice Pouzet (Clermont-Ferrand), Arnaud Caquelard (Rouen); Cristina R. Vecino (Valladolid); Esther Gatón (Valladolid); Fabio Tasso (Genoa); Garance Alves (Clermont-Ferrand); Laura Robertson (Liverpool); Luca Arboccò (Genoa); Ludomir Franczak (Lublin); Magdalena Franczak (Lublin); Pranas Griušys (Kaunas); Ricardo Suárez (Valladolid); Sébastien Camboulive (Rouen); Tjasa Kalkan (Zagreb); Victor Hugo Martín Caballero (Valladolid); Yane Calovski i Hristina Ivanoska (Skopje); Zlatko Kopljar ​​(Zagreb).
Photo gallery
---
Return to European Exhibition