CreArt, a 9 years creative journey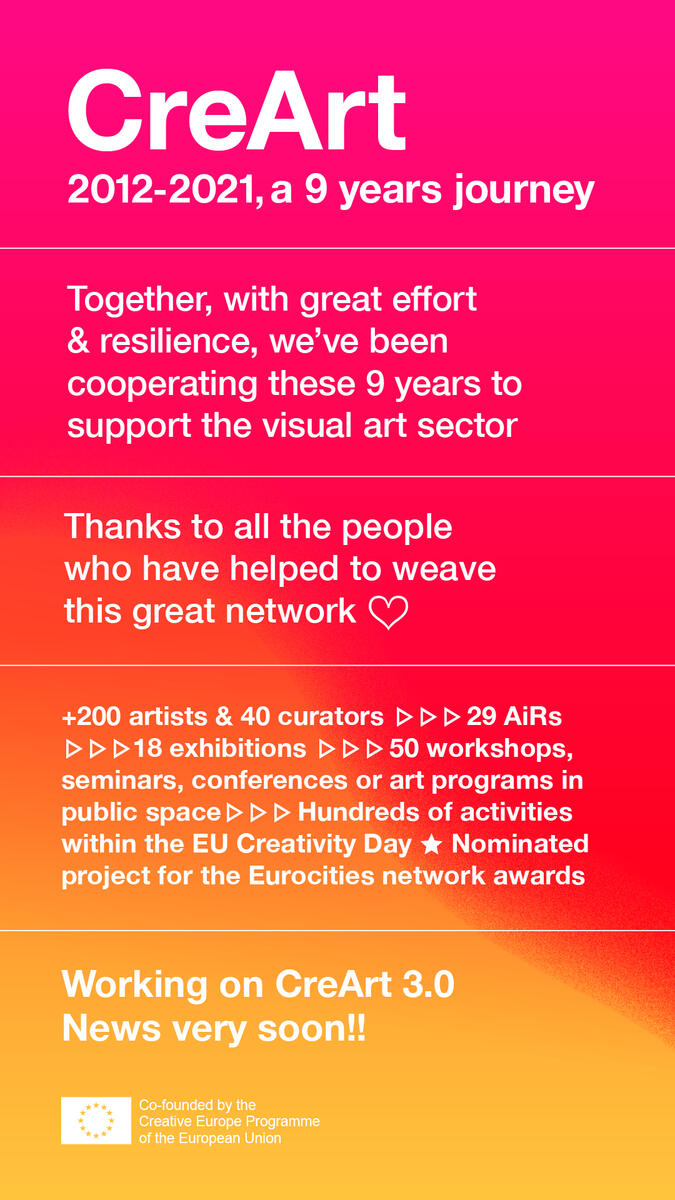 CreArt has been a great creative and growth journey for 9 years, for the work teams in the municipalities and organizations that have coordinated it, and the spaces and artists with whom we have collaborated. From CreArt we want to thank all the people who have helped to weave this great network by and for creativity. During this time with great effort and resilience, we have worked to support the visual arts sector, its training and professionalization, establishing cooperation networks at local and European level. CreArt is now closing its second phase, having achieved the following results between 2017-2021:
- + 200 artists and 40 curators.
- 29 AiR, 18 Exhibitions, 50 workshops, seminars, conferences, or art programs in public space and hundreds of activities within the EU Creativity Day.
- In 2018 we had the honor of being nominated as finalists for the annual awards granted by the Eurocities network in the cooperation category.
CreArt is a common space for Art of Europe, decisive for medium-sized cities like ours, where institutions come together to cooperate, and add synergies, strengthening the cultural life of our cities. Our spirit is that creativity solves difficulties and generates new opportunities. And with this permanent optimistic outlook towards the future, we have already started working on CreArt 3.0, to be submitted in the next Creative Europe call, with new partners and challenges, which you will have news about it very soon.
Thanks to everybody!
---
Return to CreArt News