European Days of Artistic Creativity 2020 / Lublin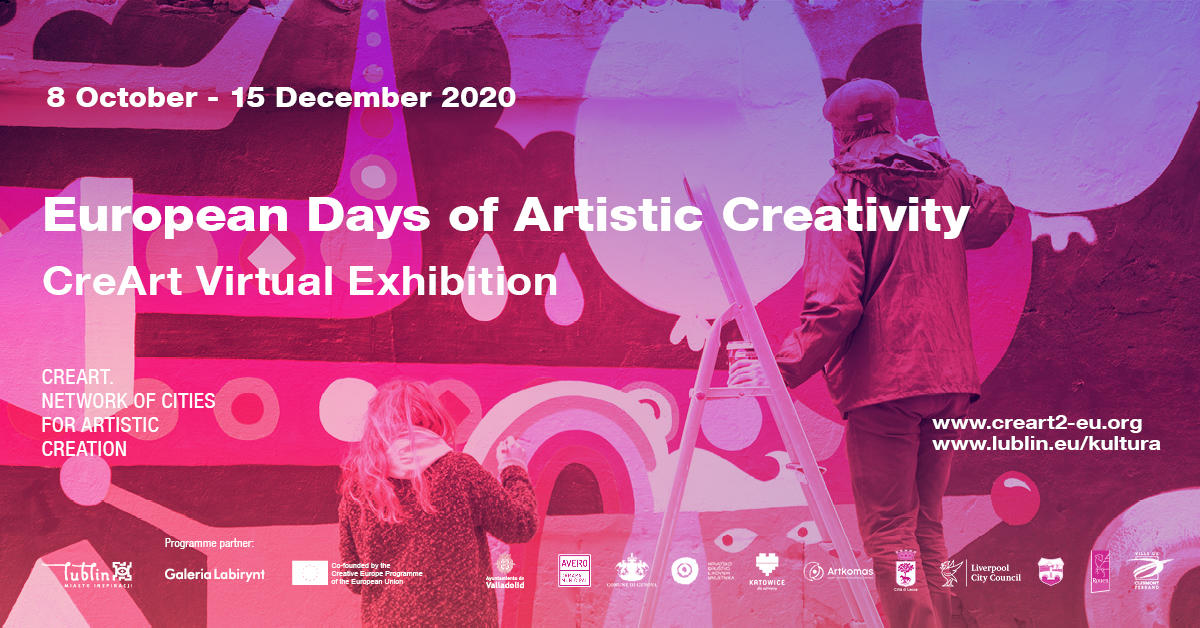 In the face of the pandemic, the European Days of Artistic Creativity 2020 is moved entirely to the virtual space. The project will feature an on-line exhibition that will last for four months. An online social platform, VRChat, will be used to transfer interpersonal interactions into the virtual world (VR). VR is a computer-generated universe that can fully reflect the real world, but can also be a figment of imagination. In both situations, the world of virtual reality is a 3D space that one can experience with 3D glasses. VRChat allows for interactions between users with the aid of 3D avatars. You can enter the virtual world in two ways: with the aid of 3D glasses and by using your computer. The first option provides full immersion into the virtual universe and by wearing VR glasses your view is focused on the virtual world only. The second way, with a computer, is less immersive, and you only "browse" the virtual world. VRChat is a free tool, easily downloaded to a computer or 3D glasses. Downloading the VRChat application on the augmented reality glasses takes place from the level of the application that is dedicated to a given platform. All computers with Microsoft Windows operating system will have easy access to the platform.
Thanks to the used techniques, it will be possible to view the exhibition without leaving your home. The CreArt virtual exhibition will be an example of using the VRChat platform to browse cultural resources. It will focus on ecology and climate changes issues, presenting the collections of Polish art institutions and works made by children and youth.
The formula of the open call, lasting until December 2020, will make the exhibition grow over time.

The inauguration of the European Days of Artistic Creativity 2020 will take place online during the Cross-Border Cooperation Congress Lublin 2020 on October 8, 2020 at 7:30 pm.
Virtual Tour: https://vrchat.com/home/launch?worldId=wrld_c6e71bc4-232f-4245-afe5-4e244a57f8bc&instanceId=81512~private(usr_193203f0-9bbc-475b-89f3-8dc8f7127fe6)~nonce(5a186108-d5f2-4853-b525-88dd34594939)~canRequestInvite&shortName=jimothy-fathook-b99a3
---
Return to EU Day of Artistic Creativity