The art galleries and their work with local artists. 3- 5 October 2019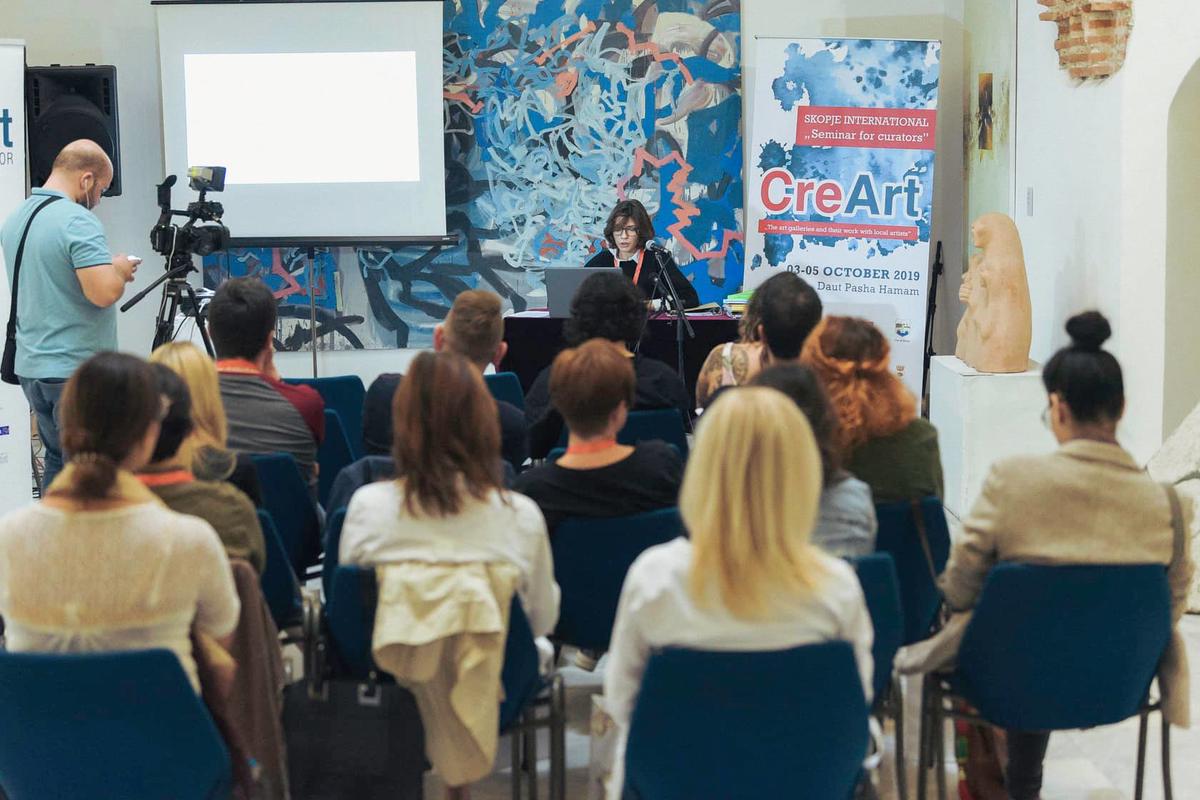 The art galleries and their work with local artists. 3- 5 October
Through the exploration of local art practices, in a joint interdisciplinary discursive thinking, followed by exhibiting examples, we will try to locate the local or globally recognizable contextual and artistic conditions in which art thought is generated.
Main points of problematization
Art between words - After the dialogue
Local artistic practices, local or global conditions
Contextualization of artistic production
Defining types of exhibitions, independent, group, retrospective, engaged art – what does it mean for curator?
Participants
Zagreb: Daniela Bilopavlović Bedenik and Maja Flajsig
Clermont Ferrand: Clélia Barthelon
Genova: Stefano Bucciero and Lidia Persano
Kaunas: Remigijus Venckus
Liverpool: Sevie Tsampalla
Lublin: Anna Bakeira
Skopje: Aleksandar Karabakov and Ivanka Apostolova Baskar
Program and workshop director Natali Rajchinovska Pavleskа
Natali Rajchinovska Pavleskа is an architect and art critic. She graduated at the Faculty of Architecture, "Ss. Cyril and Methodius" University in Skopje, with analysis and project "Center for scenic and visual arts, Macedonian National Theater plateau in Skopje". Her master thesis was on "Conceptual art in the work of Marcel Duchamp, Joseph Beuys and Art & Language from the beginning to the end of the 20th century", at the Institute of Art History and Archeology, module of Contemporary Art, Faculty of Philosophy in Skopje. Currently she is a doctoral student at the Interdisciplinary studies of Theory and Humanities at the Faculty of Media and Communications, Singidunum University in Belgrade, Serbia. Her current academic research includes theoretical and transdisciplinary analysis related to contemporary artistic practices in diverse social and institutional contexts. She is an active and critically involved author who publishes texts reflecting on the contemporary art scene at home and abroad. Usually, her writings convey an analytical approach, are often set in relation to current trends in theory and making use of interdisciplinary methods. She has contributed in public debates, art and literary conferences and symposiums in Skopje, Belgrade, Venice, and Berlin.
In addition, Rajchinovska Pavlevska has authored introductions in catalogs of group and solo exhibitions and participated in the creation of the visual concept of several national and international art exhibitions. As part of the curatorial team, she was engaged on preparing the concept and representation of the Republic of North Macedonia at the 15th Venice Biennale of Architecture in 2016, with the "No Man's Land", Project By the way-vital and lively art (co-curator and art hystory)
Venue National Gallery of Macedonia Daut Pasha Hamam
The National Gallery of Macedonia, founded in 1948, is the oldest fine art institution of its kind in the Republic of North Macedonia. It is located in the cultural-historical monument of Islamic profane architecture, Daut Pasha Hamam. The building is composed of a male and female part with a total area of 900 m2, built by Daut Pasha in the second half of the 15th century. The establishment of the Art Gallery was a response to the need for the art scene in the Republic of North Macedonia to be enriched with an expert institution in terms of affirmation and presentation of the Macedonian contemporary art. http://nationalgallery.mk
Photo gallery
---
Return to Seminar for curators