Join the celebration of the EU Day of Artistic Creativity next 21st March!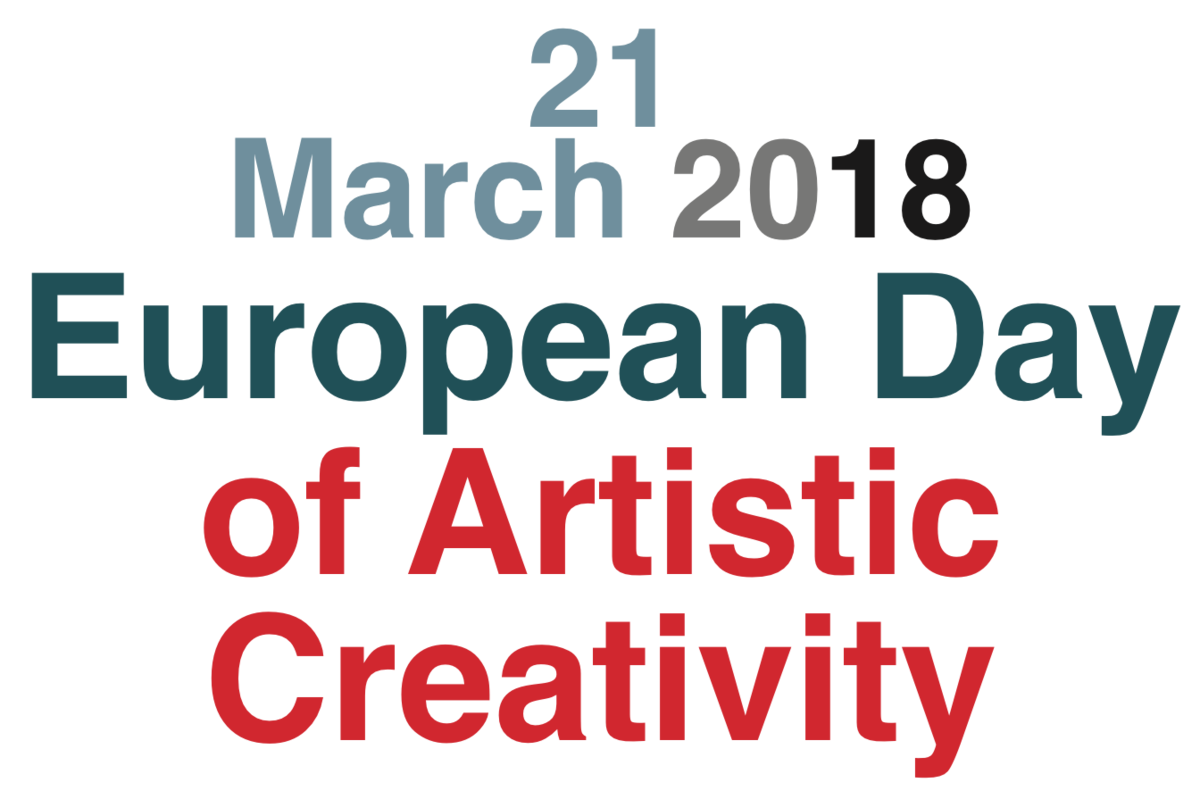 CreArt ( Network of Cities for Artistic Creation) encourages cities, museums, cultural and educational centers of all Europe to participate in the
celebration of the EUROPEAN DAY OF ARTISTIC CREATIVITY. This initiative launched in 2013 by this Network of 12 European Cities joined for the cultural cooperation and artistic exchanges, has been selected again under the Creative Europe Program of the European Commission to continue its program of activities. The Networkhas the participation of Clermont-Ferrand and Rouen (France); Zagreb (Croatia); Kaunas (Lithuania); Liverpool (United Kingdom); Genoa and Lecce (Italy); Lublin and Katowice (Poland); Aveiro (Portugal); Skopje (Macedonia),; coordinated by Valladolid (Spain).
The 6th edition of the EUROPEAN DAY OF ARTISTIC CREATIVITY,
will be celebrated on 21 March 2018,

Artists, schoolarchildren, professors, galleries, museums, artistic centers, associations, exhibition halls, cultural managers, curators,… and a lot of public, have joined in the past editions to this European event that has the support of the European Commission. Nearly a hundred of cities and cultural centers in all Europe and almost around 200 activities tookm part in the program last year in the website www.europeandayofartisticcreativity.eu.

CreArt cities start to prepare their program for the 2018 edition, in which we wish to count also on your active collaboration: we would like to receive your ideas and proposals of activities that join the final program of this European cultural event.

WE INVITE YOU TO JOIN THE EUROPEAN DAY OF ARTISTIC CREATIVITY 2018

http://www.europeandayofartisticcreativity.eu/join-us/

--------------------

SOME ACTIVITIES ORGANISED IN 2017 IN CreArt CITIES AND EUROPE

The European cities that took part in CreArt as well as other centers in Spanish and European cities participated also with special program on 21 March. To name a few, Lecce (Italy) organized 2 talks with students of the School of Art and the participation of Italian artists Michele Guido and Giovanni Termini; The Association of Visual Artists of Croatia (HDLU) will launch the project: The Estetization and Rehumanization of Public Space: six renowned Croatian artists created artistic interventions in the vicinity of the University Hospital Center of Zagreb, while the students of the Department of Ethnology and Cultural Anthropology developed an investigation; in Kaunas (Lithuania) the public organization Artkomas coordinated different workshops for children on different artistic techniques; The Atelierhaus Salzamt in Linz (Austria) presented an illustration exhibition with the artists Giorgia Marras Sarah Mazzetti and Jeck Taylor; the County of Arad (Romania) organized a collective exhibition with works by some of the CreArt artists of their city in the Train Station ...Valladolid in Spain organised more than 20 activities in collaboration with museums, galleries and schools, to promote local artists and enhance creativity among citizens and school children.
---
Return to CreArt News