CreArt AiR in Kaunas 3 September - 3 October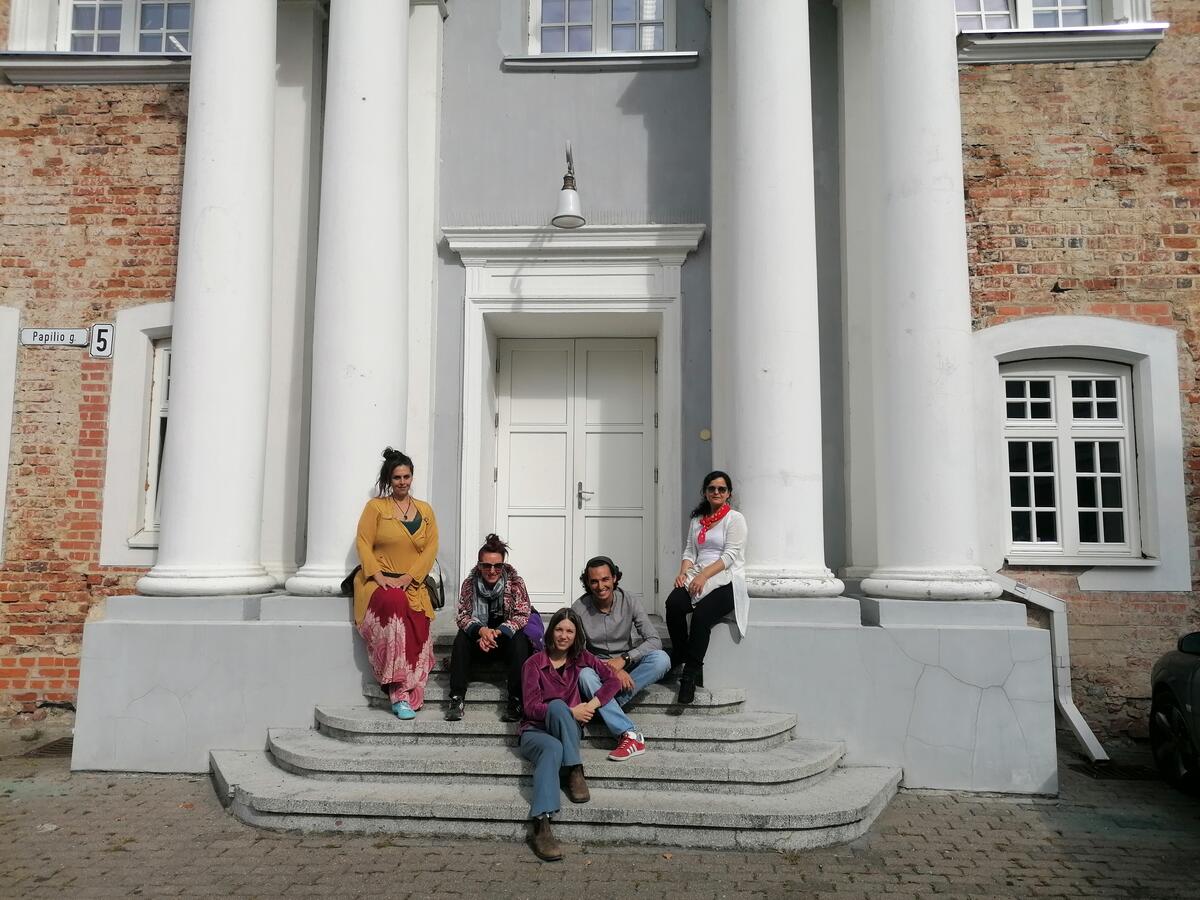 Our partner Artkomas selects the following artists for the AiR between 3 September - 3 October:
1. Borja Sánchez (Valladolid) https://www.instagram.com/sm.borja/
2. Ivana Ognjanovac (Zagreb) https://www.instagram.com/ivanaognjanovac/
3. Joana de Oliveira (Liverpool) https://www.instagram.com/jdogpaints/
4. Katrin Radovani (Zagreb). https://www.instagram.com/katrin.k.radovani/
5. Hristina Zafirovska (Skopje). https://www.instagram.com/hzafirovska/
BORJA SÁNCHEZ / 9 (Novena)
On the 7th of July 1879 Russian Emperor Alexander II approved the military leadership's proposal to build a fortress in Kaunas. The scale of this engineering project was huge: all of Kaunas was supposed to be turned into a fortress. The fortress consisted of about 750 objects: batteries, blockhouses, observation posts,
command center, pillboxes, barracks, administrative buildings, etc. Only around 250 have survived until today. These are the ruins of conflicts, dreams, and nightmares made of reinforced concrete.
This photographic project, Novena, is a journey transformed into a ritual of visibilization of the trauma of an abandoned landscape. Each of the nine forts will be systematically photographed.
The central axis of the project is the fortress, an omnipresent subject. Simultaneously, the duality of presence-absence and security-fear will be worked on. The proposal would include, in addition to photographs a video recording of these places. The ambivalence of the fortress is latent. It is a place of protection, a shelter, but also a
space where fear and terror are sovereign. Although the fortress promised security to the citizens of Kaunas, it ended up becoming a sign of the deadly power exercised by
the dictatorships.
The fortress embodies violence, but at the same time to fulfill its defensive function their bunkers must be hidden and naturalized. A myth, present and absent at the same time. A site of trauma which, as Cathy Caruth explains, produces and "oscillation between a crisis of death and the correlative crisis of life: between the story of the unbearable nature of an event and the story of the unbearable nature of its survival (1996:7)
IVANA OGNJANOVAC
Ivana Ognjanovac is an independent fine art professional with a master degree in painting. She lives and works in Zagreb.
She is a member of the Croatian Association of Visual Artists (HDLU), 22C ICAA (22C International Creative Artists Association) and HZSU (Croatian Freelance Artists' Association). Since 1999 her work is being exhibited inland and abroad. She has carried out five projects in residential programs: 'Fragile Homes' at Inside Zone residency Borsec, Romania, 'Paradis' at CreArt's residency in Kristiansand Norway, 'Web Of Possibilities' at Yurta And A Lake Air in Bel-Tam, Kyrgyzstan, 'Interdependence III' at Glo'Art Air in Lanaken, Belgium and 'Rayuela – A Fading Kingdom' at LAVA center in Valladolid, Spain. In 2012 she was awarded the 1st Prize of the Triennial of Self Portrait in the Prica Gallery, Samobor. Since 2018. she has been collaborating with Mare Šuljak, a multimedia artist from Dubrovnik, on four projects, often including other artists as well.
In my work, I am combining collage, photography, text writing and embroidery. Materials I use are paper, newspaper, cardboard, vintage photographs, postcards, visit cards etc., wool and thread, pencil and ballpoint pen. I work spontaneously, daily, without sketching or trying to preconceive the outcome. I use found and bought materials equally.
My work varies in size. It mostly appears as a serial, containing interconnected or only broadly connected content. Topics I work with are family heritage, gender roles, social positions and marital routine. I reflect on them in a humorous yet questioning manner. My working process is often closed in the form of an installation, containing all the elements I have worked with.
JOANA DE OLIVEIRA
Multidisciplanary artist who's studied political science and international relations with a post grad studies in Military Strategy and experience in high political environments. Currently developing fine art projects using painting, sculpture, animation, ceramics and poetry as mediums to explore subjects such as economics, politics, anthoropology, climate, history of art and philosophy.
Since I've started to make art pieces on a daily basis, the main interest that has guided my practice, is telling contemporary stories that depict nowadays society. I explore a variety of subject matters in which I find interest, relevance or that impact my feelings profoundly. Research, is usually the starting point and guides the content creation of my work. I like to use mind maps where I think about a lot of ideas, key words and concepts that are inter connected and that can tell a story. I use different ingredients to tell these stories but understanding semiotics and symbols helps translating words into shapes and colors. Humor is probably the most important ingredient in my work. I believe that humor has the ability to build up a kind of freedom that allows me to talk about everything and cause a positive impact in the viewer. Lately, I've been researching about facts and myths that are part of contemporary history. I am interested in exploring the ways that we consume and the things we believe that are best for us from the way we eat and the diets we decide to have, for example, but I am also deeply interested in how we relate with each other in nowadays society and how the product of that
interaction via social media or through communities impact in our political and economic structures. Creating a body of work that maps the great trends of this new decade is
something that I am working on at the moment. I have already planned that after producing work on what I see as the ´big picture´, I will dive deeply into more complex subject matters to discuss philosophical concepts related to the state of modern democracy and how surveillance capitalism is shaping human autonomy.
If I get offered the chance to participate in this residency, it will be the best opportunity to give continuity to this body of work, to dedicate all the time of my day working for this goal where I will produce large scale paintings. But above all, I would be thrilled to experience living in a city that I haven't had the chance to visit yet, learn more about Lithuania and leave one of my artworks for the city of Kaunas.
KATRIN RADOVANI
For this residency, I propose to explore the city and its people, structures, habitants, natural life, etc through sketchbooks, a series of small scale paintings in oils and, if possible, a drawing-in-space installation. Ever since I visited Kaunas last summer, I was planning to come back, as I really loved the place and its energy. I find the nature in and around the city stunning so I'm excited for this opportunity!
I would like to make sketchbooks (drawings) while wandering and exploring; to research and document the space through drawings. These would be used as inspiration for paintings, but could also, given time and space, be interwoven (or sewed together) into an installation - a drawing-in-space - making it an entity of its own. This work would be sort of continuation of the series called "Nature prevails" (as shown in the portfolio), a series of expressive symbolist paintings inspired by the often unnoticeable
traces of nature around the city; an ode to "wildlife" that somehow lives in our city public space, even with all the urbanisation and domestication. My quest will be to search for the soul of the space, and to show my vision of it, through art.
HRISTINA ZAFIROVSKA
I was born 1983 in Skopje, Republic of Macedonia. I have finished secondary art school "Lazar Lichenoski" in Skopje, at the department of applied arts, and graduated in painting and graphic design department at the Faculty of Fine Arts at the University "Ss. Cyril and Methodius" in Skopje, R. Macedonia. Postgraduate studies in graphic design at the Faculty of Design and Multimedia in Skopje, R. Macedonia.
Since 2009, I'm a member of the Association of Artists of my country. I am one of the founding members of the art group and cultural alternative art exhibition space "Art I.N.S.T.I.T.U.T." in Skopje, established in 2009, also a founder of the female artist group "MOMI" (LADIES) which begins in 2012 with the active implementation of projects across the country and the Balkans.
I am working in the fields of graphic design, painting, installation, drawing, photography, scenography, restoration and conservation of paintings and fresco paintings, mosaic and video.
I actively participate in local and regional projects, border cooperation in the field of culture, also I'm taking part of many festivals, artistic gatherings, art symposiums, public presentations in the Balkans, Europe and beyond. I live and work in Skopje, R. Macedonia.
Photo gallery
---
Return to AiR Programme