PROGRAMME OF ACTIVITIES 2021 AT LUBLIN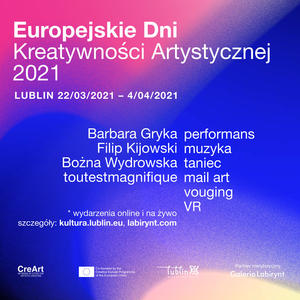 EU Day of Artistic Creativity in Lublin
This year we offer a multidisciplinary programme of the activity, that contains of three thematic
areas:

1) Mail Art - we would like to include the Mail Art initiative to the programme of the EU Day, but as we do not have possibility to announce a competition with cash prizes, we 'd like to modify it a bit. Instead of a competition, we would like to do a social campaign of sending postcards with warm greetings to residents of the Mother Theresa of Calcutta Social Welfare Residential Home in Lublin. Last year, the Social Welfare Residential Home was consumed by fire.
This is a place with which we cooperated by organizing creative workshops during previous editions of the EU Day. Currently, it is virtually impossible because the pandemic makes people living in the Welfare Home actually cut off from the world. They cannot leave the facility, they have no access to the Internet, no one can visit them.
The idea is to initate a social action, carried out by contemporary artists, who will involve the local community of Lublin: children, youth, adults.

2) An interdisciplinary event combining the gallery space with dance and music. Local and Polish artists specializing in different fields of dance and music will be invited to cooperate. They will
prepare a joint action dedicated to the project. The event will be available to watch online and also live (providing the sanitary restrictions will allow it).

3) The next edition of the CreArt virtual gallery. As part of the action, spatial works of art will be scanned. It will enable to to view them in digital space, without leaving one's home. The action will be a continuation and extension of the solutions developed under the EU Day 2020.
| | |
| --- | --- |
| Institution / Organization | Gmina Lublin / Galeria Labirynt |
| Is it necessary to book? | No |