PROGRAMME OF ACTIVITIES 2021 AT SKOPJE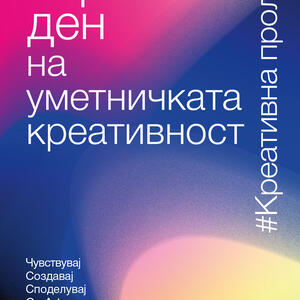 Program of activities for EU Day of Creativity in Skopje
| | |
| --- | --- |
| Institution / Organization | City of Skopje |
| Is it necessary to book? | No |
Celebrating the EU Art Creativity Day - March 21, 2021 - consists of 4 different activities:
1 / The project PORTALI 2021- is a continuation of the first exhibition organized in 2018, within the project CreArt, which presented works by artists from the youngest generation of Macedonian authors. Setting up GOALS.
2018-2021 aims to present a constellation of young artists who transmit their creative energy through various artistic media through all 4 years of work within the project.
PORTALI 2021 is an entry into the diversity of the art world, through a selection of recent works by young artists-illustrators, who act locally and globally with their work in secondary illustration (comic illustration, illustrations for video games, illustrations for children, literature, etc.).
It is related ideologically in the presentation of their views which are inspired by different segments of everyday life and critically focused on the problems created by the speed of overall development, changes in the environment and communications. As a kind of open portal-metaphor of the city of Skopje, a city that is a symbol of history built on trial and error, perseverance and struggle for survival. Through forms of presentation of selected information placed through the media that mislead us and redirect us to various discourses on existence and development. Conveying dictated views with intrusive content without taking into account the reaction they produce - opening new dimensions in the visual conceptualist approach and stating various reasons for current events by changing statements and distorting already filtered media. Suggestive desire for new beginnings through changes that should change the trajectory of movements and open new and new portals with fresh ideas.
3. Educational workshops for the application of artistic techniques in the creative process of preparation of illustrations The preparatory training and realization will be held in the premises of the Youth Cultural Center.
4. Debate topic: Illustration as a tool for communication between writer and reader
5. KALEIDOSCOPE 2021 - Presentation of an exhibition by the illustrator Natasha Andonova from Skopje.