PROGRAMME OF ACTIVITIES 2021 AT SKOPJE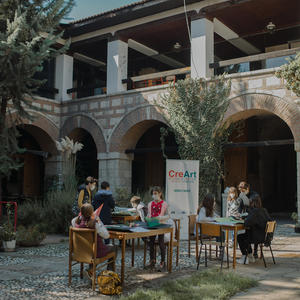 Program of activities for EU Day of Creativity in Skopje
| | |
| --- | --- |
| Institution / Organization | City of Skopje |
| Is it necessary to book? | No |
The project PORTALI 2021- is a continuation of the first exhibition organized in 2018, within the project CreArt, which presented the works of artists of the youngest generation of Macedonian authors. Setting up PORTALS. 2018-2021 aims to present a constellation of young artists who transmit their creative energy through various art media through all 4 years of operation within the project. PORTALI 2021 is an entry into the diversity of the art world, through a selection of recent works by young artists-illustrators, who act locally and globally with their work in the medium-illustration (comic illustration, illustrations for video games, illustrations for children's literature, etc.) .
Educational workshops for application of art techniques in the creative process of preparation of illustrations The preparatory training will take place in the premises of one of the primary schools in Skopje, which will work for 4 weeks, while the two-day workshop will be held in the premises at the Museum of the City of Skopje
KALEIDOSCOPE 2021- Presentation of young illustrators from Skopje. In the process of preparing their works for the exhibition, the young illustrators will have the opportunity to get acquainted with some of the museum collections in the Museum of the City of Skopje, which should then be their provocation and inspiration for creating their own worldview. Part of the material will be selected and printed in small collections of postcards, in the form of promotional material for the exhibition.
More info soon