Opening CreArt Dual Exhibition "Transformastions. Me, Me and again me" in Kaunas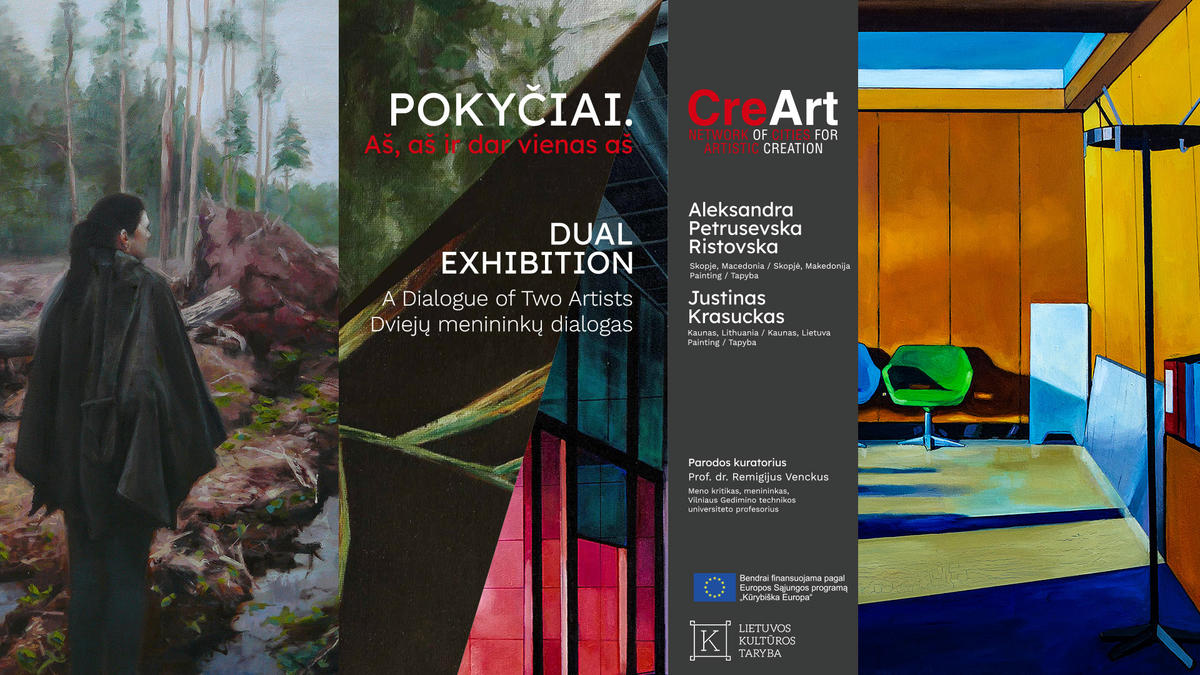 CreArt partner Artkomas and curator Remigijus Venckus have selected the artist from the Network Aleksandra Petrusevska (Skopje) and Justinas Krasuckas (Kaunas), for the new Dual Exhibition "Transformations, me, me and again me" that has just opened in Galerija Ars et Mundus
ARTISTS
Aleksandra Petrusevska (Skopje)
(1981, Skopje), graduated at the Faculty of Fine Arts in Skopje in 2005. In 2011 she obtained a Master's degree in Graphic Design, and in 2017 she received her Ph.D. at "St. Cyril and Methodius" University, at the Institute for Macedonian Literature, Department for Cultural Studies, in Skopje. Ristovska has staged several independent and group exhibitions: New York (2010), Berlin (2010), Vienna (2009), Beirut (2009), Amsterdam (2008), Belgrade (2006), Museum of Contemporary Art Skopje (2005, 2006, 2008). Thus far she has participated in several international projects and art residences (KulturKontakt Austria, European Cultural Foundation, Pro Helvetia Skopje. In her visual practice, social and existential issues expressed through traditional and interdisciplinary expressions are discernible. Since 2009 she has worked as a professor and Dean at Faculty of Art and Design (International Balkan University)
"The interior objects that we now see most often spark a nostalgic feeling that they have not changed, yet at the same time they have. Such idealized memory, which could be approximately explained as the most sincere moment in our existence, presents a unique artistic structure that for any individual represents an intimate corner, a fragment from their private, their own and personal memory."
Justinas Krasuckas (Kaunas) 1989
"Recently I have been working in the genres of landscape and figurative. I try in my painting to convey the relationship between nature and man. I find motives for my work in the Lithuanian landscape - I visit wetlands, forests, untouched natural areas. I am looking for a real, immediate relationship between the inner world of man and the chaotic nature. With the start of COVID quarantine, I became even more convinced that I now needed to analyze us the relationship between the surrounding environment (in this case I choose the close nature of Lithuania) and man. Savo in the painted works I show a lonely, separated figure surrounded by nature. I think when it comes restrictions on travel to other countries, our society drew attention to our Lithuanian nature. In my paintings, I try to convey the kind of mood we feel when we are isolated."
CONCEPT
The spring of 2020 in Europe was really different and quite unusual. Due to corona virus countries closed their borders, movement of people was limited, social media channels burst with shocking numbers of the infected and the deceased. The situation has had an irreversible impact on our world: the limitless travel that had been an established norm became impossible; most of us had to close ourselves up and stay, work and communicate only with those who live together, in confined spaces of several dozen of square meters. There has never been a lockdown of this global kind in history; it created additional chance for many people devote more time and attention for their own needs. Some used this time for reflection of their life goals, others – for search of new challenges, while still others had to come to terms with their inner demons. Many had to search for the answer how to survive in this strange time, how to not start hating oneself or keep the mind at peace.
CURATOR
Artist, art critic Remigijus Venckus, PhD. R. Venckus defended his doctoral dissertation in the humanities in 2014; in 2005 – 2015 he has published 337 critical articles on subjects of art, media culture and creative industries. In 2008 – 2016 R. Venckus acted as art critic for the international visual arts festival "Art In Old Lithuanian Manors" (Lithuania). Since 2002 he has held 50 solo exhibitions in Lithuania and 4 solo exhibitions abroad.
R. Venckus has been teaching subjects of media technologies and art creation in Lithuanian and foreign universities. He is currently Professor at Vilnius Gediminas Technical University, Faculty of Fundamental Sciences, Department of Graphic Systems. More information available at www.venckus.eu
EXHIBITION SPACE
"Ars et mundus" is a gallery located a few years ago in the heart of the Old Town and has become not only a place for the exhibition of works of art, but also an active participant in the cultural life of Kaunas.
Virtual Tour: https://www.artkomas.lt/galerija/virtualiosparodos/
Photo gallery
---
Return to Dual Exhibition