PROGRAMME OF ACTIVITIES 2015 AT ZAMORA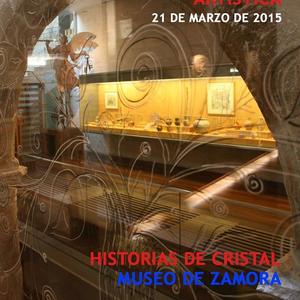 Taller didáctico "Historias de cristal"
| | |
| --- | --- |
| Who is it for? | Público infantil. Todos los públicos. Todas las edades. |
| Timetable | Del 19 al 21 de marzo |
| Institution / Organization | Museo de Zamora |
| City | Zamora |
| Country | Spain |
| Email | museo.zamora@jcyl.es |
| Is it necessary to book? | Yes |
Museo de Zamora. El día 21 de marzo se celebra el Día Europeo de la Creatividad Artística y en el Museo de Zamora nos sumamos a la celebración. Varios artistas van a intervenir sobre las vitrinas de las salas donde se guardan las piezas de la colección permanente del Museo de Zamora. Desde hoy y hasta el domingo 22 de marzo, estos artistas y algunos visitantes entrarán al Museo para transformar su espacio y convertir estos cristales de seguridad en un enorme lienzo transparente donde la visión de las piezas se mezcla con las imágenes de los graffitis. Las interferencias sobre la visión de las piezas mediante los dibujos de los artistas, alterará durante unos días la visión del recorrido habitual del Museo con una propuesta cargada de creatividad. Durante las visitas guiadas "MUJERES DIVINAS" (21 de marzo) y VEN QUE TE CUENTE (22 de marzo) se invitará al público asistente a que decoren las vitrinas según lo que la explicación les ha evocado.