PROGRAMME OF ACTIVITIES 2017 AT LINZ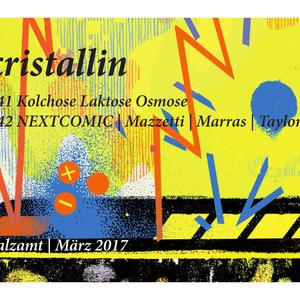 EXHIBITION Sarah Mazzetti / Giorgia Marras (kristallin #42) / Jack Taylor (Frisiersalon Pfarrgasse)
The exhibition is part of the CreArt European Day of Artistic Creativity
Sarah Mazzetti (IT) and Giorgia Marras (IT) live and work in February and March as Artists in Residence at Atelierhaus Salzamt. In the context of CreArt European Day of Artistic Creativity and the NEXTCOMIC festival, they present their new works, some of which have been produced during their residence.
Giorgia Marras Graphic Novel "Sisi" is released in June, her last book, "Munch before Munch", was also finished in Linz in 2013, when she was CreArt Artist in Residence for two months in Salzamt.

Jack Taylor (UK) is also currently a guest artist in the Salzamt and his work will be displayed at the abandoned hairdressing salon in the Pfarrgasse. This shop window gallery next to the main square has been used for a year by the Salzamt and for the first time at NEXTCOMIC.