PROGRAMME OF ACTIVITIES 2016 AT LINZ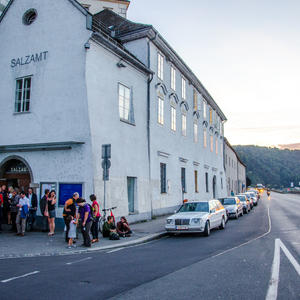 Program of Activities by Atelierhaus Salzamt
1) Exhibition Salzamt "Kristallin#31" with Alice Socal (IT) and Joe Kessler (UK)
contemporary comics, illustration riograph printings, magazine pblshing and graphic novels.
Guided tours with partner schools

2) The Promised Land
A school project in cooperation with Salzamt/ Sam Bunn (UK/AT) dealing with the current situation of refugees.
More than 25 wooden objects with spyhole and precinematic settings inside were built in workshops with Linz artists and will be exhibited in the rooms and corridors of the entire Salzamt.

3) Frisiersalon
In a former barbershop in the city center a new work will be shown in the shop window starting on EU day by Jan Zdvorak (Pardubice) which was already CreArt Artist in Residence in 2014 in Linz. He will get help from interns and volunteers from partner schools and professional assistence by local artist Sebastian Six of Faxen collective who will be in this year´s CreArt European exhibtion.