PROGRAMME OF ACTIVITIES 2016 AT VILNIUS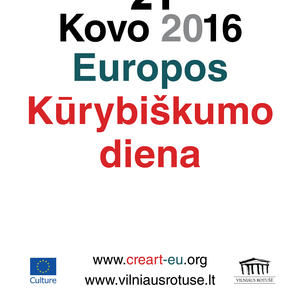 Program of Activities in Vilniaus rotuse
European Day of Artistic Creativity – it is a perfect opportunity to show how young people can create and express themselves through the art.
Children started to work on February 1st.
2 – 6 years old children participating in creating process for two months. They are working in workshops with the scissors, glue, they were painting, stamping, burning, pouring, bending and etc.
Children are trying a lot of new work technics – casting watercolor, the juxtaposition of the drawing process as chalks markers watercolors. Children are really interested in Batik technic. The artworks can be not just exhibited but also can be as the interior detail.
After two months of workshops, 21st March, 2016 Vilnius Old City Hall will open the exhibition of children artworks. Also Vilnius City Hall organizing the concert of choir singing school "Liepaitės". The choir firmly took root in cultural life of Lithuania. "Liepaitės" performs in biggest concert halls, choir's voices are conducted by the most celebrated conductors of Lithuania J. Domarkas, S. Sondeckis, G. Rinkevičius, R. Šervenikas, M. Pitrėnas, M. Staškus. Choirs have broad repertoire - from Lithuanian folklore songs to large-scale works with an orchestra. Concert tour routes are widely spread throughout all the Europe.
The artworks will be exhibited for one month so all citizens and city visitors have the opportunity to see the exhibition.