PROGRAMME OF ACTIVITIES 2020 AT ROUEN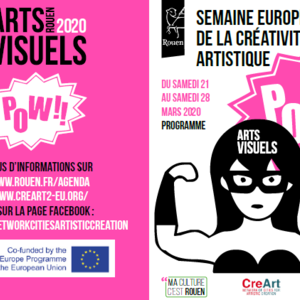 European Week of Artistic Creativity From 21 th to 28th March 2020 / ROUEN
| | |
| --- | --- |
| Institution / Organization | Ville de Rouen |
| City | Rouen |
| Country | France |
| Is it necessary to book? | No |
THROUGHOUT THE WEEK:
André Malraux Cultural Center Exhibition
From March 21 to 28, 2020, from 2 p.m. to 6 p.m.
"Come and visit an exhibition of students from the drawing, painting, ceramics, sewing and paper-textile classes of the André Malraux Cultural Center. They will be there to welcome you, tell you about their practice, while continuing to create. Available on site: free initiation coupons and coloring pages for children. "
La Petite Galerie Ephemere / 16 rue Jeanne d´Arc
Free entry
SATURDAY 21th :
L'établi Exhibition
From 1 p.m. to 6 p.m.
"L'établi is a multidisciplinary space which hosts artists' workshops, drawing lessons and an associative gallery. On the occasion of this event, the gallery presents the drawings and creations of its residents : Aude Bourgine, Nicolas Gouesbet, Christelle Lardenois and Céline Voisin. "
L'établi - 45 rue des Bons-enfants - 76000 Rouen
Credit: Nicolas Gouesbet
Rouen Normandy Photographic Center
Guided tour, 3:30 p.m.
"Come and discover the work of the Dutch photographer Koos Breukel. Combining different registers of photographs, the exhibition presents eighteen years of portraits of the artist's eldest son, from childhood to adolescence, thus revealing the evolution of the gaze that each poses on the other: the father , son, photographer, model. "
Photographic center, 15 Rue de la Chaîne, 76000 Rouen.
Free entry
SUNDAY 22th :
Marie-Margaux Bonamy
Nipple Badges Workshop # 5 + Egalitarian Fanzines
Sunday March 22, from 3 p.m. to 6:30 p.m.
"Workshop to create Nipple Badges in carded wool, followed by the creation of a fanzine on gender inequalities. The workshop is part of Marie-Margaux Bonamy's plural project "Et ta mère?" (And your mom ?) questioning equality between individuals. "
Collective workshop : 147 Rue Beauvoisine, 76000 Rouen
From 10 years old, accompanied children. Free, reservation at gomar.bonamy@gmail.com
Credits: Badge Téton, Marie-Margaux Bonamy
MONDAY 23th :
Collectif d'en face
"Black marble" / Screening
Monday March 23, from 6 p.m. to 9 p.m.
"Screenning in shop front and preview of movies, videos and animations by artists still unknown, in relation with the Parangonnage exhibition (Aude Bourgine, Laure Forêt, Morgane Fourey and Marc-Antoine Garnier from March 06 to 05 April). "
Free entry.
Credits: Aude Bourgine © Still lifes, realities 2018
TUESDAY 24th :
Echelle Inconnue
SEINE AXIS
Tuesday March 24 from 11 a.m. to 6 p.m.
"Echelle Inconnue proposes a screening of two short films related to the Seine Axis, produced by Stany Cambot:" Life and disappearance of a nomadic enclave "(7'09) and" When the metropolis worries about the fate of Travelers following the Lubrizol fire "(8'31), a film made with nomad community of Rouen. "
Echelle Inconnue, 11-3 rue Saint Etienne des Tonneliers 76000 Rouen
Free entry
Credits: Unknown scale
Echelle Inconnue
Opening night
Tuesday March 24, 7:30 p.m.
"The launch party for the number 9 newspaper of Echelle Inconnue, on the theme of the Seine Axis, will take place at the Le Rêve de l'escalier bookstore. "
Le Rêve de l'escalier, 14 rue Cauchoise 76000 Rouen
Free entry
WEDNESDAY 25th :
Nos Années Sauvages
Artist studio opening
Wednesday March 25, noon to 5 p.m.
"Laurent Martin, artist in residence at the Jardin des Plantes, has been creating in situ since 2018, outdoor installations and sculptures. He benefits from a workshop in the heart of the garden to continue his research which he invites you to come and visit. "
Jardin des Plantes of Rouen - 114B Avenue des Martyrs de la Résistance 76100 Rouen
Credit: Studio view, Laurent Martin
Maison de l'Architecture de Normandie – le Forum
Guided tour
Wednesday March 25, 3 p.m.
"The team of the Maison de l'Architecture de Normandie invites families to visit exhibition" Re-enchant the world ". Let yourself be guided in this manifest exhibition on the future of the inhabited world and discover architectural projects which respond, in a wide variety of contexts, to the challenges of our century. "
Limited number of places, free upon registration: 02 35 03 40 31
Maison de l'Architecture, 48 rue Victor Hugo, 76000 Rouen
THURSDAY 26th :
FRAC Normandie Rouen
Guided tour of Diogo Pimentão's exhibition, Drawing backwards
Thursday March 26 at 5:30 p.m.
"The Frac invited Diogo Pimentão to invest its spaces for its first major monographic exhibition in France. The 40 works presented retrace more than 15 years of transversal research on drawing which places him as a reference artist on the current artistic scene. With the generous support of The Calouste Gulbenkian Foundation. In partnership with Le Monde. "
Free, by reservation at 02.35.72.27.51 or j.debeer@fracnormandierouen.fr
Credits: Diogo Pimentão, Documented (Belong # 1, # 2, # 3), 2014 Paper and graphite Variable dimensions.
HSH
Guided tour and screen printing workshop
Thursday March 26, 2 p.m. to 5 p.m.
"HSH invites you to visit Roland Shön's exhibition at Face de phasme, then a screen printing workshop around the artist's work at #LaboVictorHugo. "
From 2 p.m. to 3 p.m., visit to Face de Phasme: 36 rue Molière 76000 Rouen
From 3 p.m. to 5 p.m., workshop at #LaboVictorHugo, room n ° 2: 27 rue Victor Hugo 76000 Rouen
Free / reservation: contact@hshcrew.com
FRIDAY 27th :
Collectif d'en face
"Touchstone" / Live concert
Friday March 27 from 6 p.m. to 9 p.m.
Slightly delayed, a special carte blanche with a surprise character for typing and knitting links in a sound sculpture that will resonate with the works of Parangonnage, exhibition in progress.
Free price.
Visual: Morgane Fourey © Untitled 2013
SATURDAY 28th :
L'établi
Workshop sale
Saturday March 28 and Sunday March 29 - 10 a.m. - 6 p.m .:
"The resident artists take the most of this month of March to clean up their workshops for the spring. On this occasion, come and search, discuss, and purchase works, equipment, supplies, etc. Everything must disappear! "
The establishment - 45 rue des Bons-enfants - galerieletabli@gmail.com
Atelier TIGRE
Open doors
Saturday March 28 between 10:30 a.m. and 1:30 p.m.
"TIGRE, artistic practice workshop, opens its doors on Saturday March 28 between 10:30 am and 1:30 pm. Family discovery workshop."
Free entry
Credit: Sophie Grassart
La Loge des Auteurs Photographes
Cyanotype workshop
Saturday March 28, 11 a.m. to 5 p.m. (1 hour lunch break)
"La Loge invites the artist Julie Pradier to offer an introductory workshop on the cyanotype technic, an old photographic process with blue monochrome rendering. On the program: production of photograms and photographs with digital negative. Bring a camera or USB stick images, and clothes that do not fear possible chemical stains. "
Free, by reservation (06 62 70 70 93)
Labo Victor Hugo, 27 rue Victor Hugo, Room n ° 3 on the ground floor
Photo credits: © Julie Pradier
Collective Rue des Bon Enfants / Alison Petit
#JEUXDEMURS
Saturday March 21 from 2 p.m. to 4 p.m.
"Route of discovery and initiation to street arts: Immersive ballad to the discovery of Rouen street artists then visit of exhibition at the art center Le Hangar 107 and finally workshop. Meeting in front of Hangar 107 on the quays in Rouen. KAZOO & BTR »
Free on reservation (tel or sms 06 11 98 36 61), subject to availability.
Credits: DHOA & FIL & KAZOO
La Civette
Guided tour and artistic practice workshop for families
Saturday March 28, 2 p.m. - 6 p.m.
"The team of the Le Hall association invites you to its new space: La Civette. On the program: guided tour of the (in) Visible exhibition, photography workshop linked to the exhibition and snakes in celebration of the end of the exhibition. Bring a camera or mobile phone. Price: 2 € »
La Civette, 2bis rue Achille Fournier, 76000 Rouen / Téor Deux rivières or Bus 22 Val Fleuri
Credit: Grossgasteiger Eberhard
La Petite Galerie Ephemere
Drawing concert
Saturday March 28, from 5.30 p.m. to 7 p.m.
"Come and participate in a Drawing concert! A musical performance while the public will draw the musicians and also create live. Various materials and teachers will be available to support this translation from sound to image, between representations of performers and abstract interpretations of musical atmospheres. In partnership with the Zazimuts. "
La Petite Galerie Ephemere, 16 rue Jeanne d´Arc - 76000 Rouen.
Free admission, limited seating available)
No credits (photo free of right)