PROGRAMME OF ACTIVITIES 2020 AT LUBLIN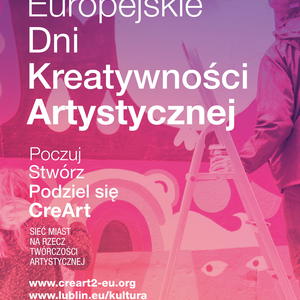 Program of Activities in Lublin
| | |
| --- | --- |
| Institution / Organization | Gmina Lublin |
| City | Lublin |
| Country | Poland |
| Is it necessary to book? | No |
| Document | 5e5ccd6be073b.pdf |
The European Days of Artistic Creativity in Lublin is an interdisciplinary event addressed to all residents of Lublin. Children, young people, adults, seniors, as well as people with hearing, sight and intellectual disabilities, will have a great opportunity to develop their knowledge about culture and acquire interesting creative skills by participating in numerous events.
This year, the programme of the European Days of Artistic Creativity goes beyond the scope of contemporary art and includes also events of other disciplines such as film and music. The programme will be based on a series of free admission events dedicated to organized groups and individual recipients. Selected events will be translated into Polish Sign Language.
During the whole week, the residents will be able to take part in the workshops dedicated to following disciplines: performance art, DJing, Polish Sign Language, film and computer games. The results worked out during the workshop will be summarized in the form of a music, performative and film presentation that will take place on the March 28th in the Labirynt Gallery.
Guided tours and workshop meetings will also be part of this year's European Days of Artistic Creativity celebrations. In the main headquarters of Labirynt Gallery ( 5 ks. J. Popiełuszki st.) the exhibition "Fasada" of Monika Sosnowska will take place.
A series of events allowing the recipients to face contemporary art will be organized within the context of the exhibition.
We invite to participate in the European Days of Artistic Creativity kindergartens, schools and institutions of persons with disabilities. Classes addressed to whole families will also take place!
The European Days of Artistic Creativity in Lublin will be a unique time that will remind the city's residents that each of them can act creatively and try their hand at implementing even the most unusual ideas. It will also be an opportunity for the city's residents to become active participants in cultural life.
The European Days of Artistic Creativity are implemented as part of the "CreArt. Network of Cities for Artistic Creation" project with the financial support of the European Commission under the Creative Europe programme.