PROGRAMME OF ACTIVITIES 2020 AT SKOPJE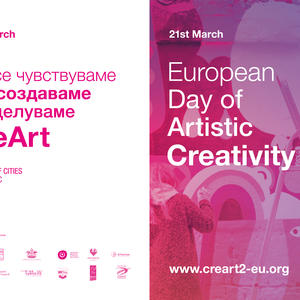 Program of activities in Skopje
| | |
| --- | --- |
| Is it necessary to book? | No |
March 21, 2020
Exhibition "Portals 2020"
Curator: Jasminka Namiceva,
Location: Museum of the City of Skopje21 март 2020
The concept of the Portals cycle - as a kind of open gateway metaphor to the City of Skopje, a city that is a symbol of history built on trial and error, perseverance and the struggle for survival, continues to be the work of young and middle-aged artists in Skopje, which operate not only locally but globally with its stage design work as part of the theatrical and film production teams.
March 22, 2020
Exhibition "Kaleidoscope 2020"
Curator: Igor Tanevski
Location: Skopje City Museum / CreArt Pavilion-Botanical Garden -Skopje
Multimedia Exhibition "It's ..." by young visual artist Filipe Pepe Ivanovski (Skopje 1993) - He completed his sculpture studies in scenery in 2015. at the University "Ss. Cyril and Methodius", Faculty of Fine Arts - Skopje, in the class of prof. Bedi Ibrahim. After graduation he worked in scenery at the Macedonian National Theater.
In the project "It's ...", the author Ivanovski, through a spontaneous approach to expression, will lead us through the contents of the first sin, to the lost stories of an everyday life, to the traces of a future-looking existence. The story will be told through objects, installations and its characteristic creations - goblets intertwined with plastic elements ...
Wax Preservation Society(Skopje 2019)
Formed by Nastasia Kiskina Zdravkovska and Nikola Dimitrijevic G who are part of the Skopje Gru cultural platform. The "Wax Preservation Society" project has the idea of ​​grouping them together, presenting all the DJs that nurture the plates as a media platform. Every Sunday afternoon they post an hour-long vinyl video of a number of domestic and foreign artists complemented by visuals, objects and plants at various locations in Skopje. For Kaleidoscope 2020, the Organic Feels audio-visual project will be presented. At the CreArt Pavilion at the Botanical Garden - Skopje, the collective will carry out this audio-visual installation, DJ sets that correspond to the visual design of the pavilion and the nature around it.
March 27, 2020
Talk debate - Set designer / costume designer - art challenge !!
Moderator of the debate: Krste Dzidrov Phoebe; Lira Grabul
Realization locations: Museum of the City of Skopje
Participants: Students from the Faculty of Fine Arts - Skopje and the Faculty of Dramatic Arts - Skopje, costume designers and stage designers,
March 28-31, 2020
Open studio - Two educational interactive workshops on
Scenery and Costume Design: Theater of Shadow
Author of the concept: Jasminka Namiceva
1 workshop: Scenery for Design and Performance of the Mobile Puppet Theater and Two Scenery Designs
Lecture and Mentoring - Prof. Bedi Ibrahim, MSc
• Assistant lecturer, realization and coordination: Nenad Georgievski Tonkin.
• Participants: Students of the module and course Scenery from the Faculty of Fine Arts - Skopje and the Faculty of Dramatic Arts - Skopje
• Location - Terrace of the Museum of the City of Skopje / Atrium of the Museum of the Old Skopje Bazaar and Academy of Fine Arts - UKIM / Botanical Garden -CreArt Pavilion / any other place in the city
workshop no.2- making "karagoz" dolls and other dolls and costumes
• Lecture and Mentoring: Prof. Iskra Grabul
• Participants:
• High School of Art DSULUD - "Lazar Licenoski" - Skopje,
• Faculty of Design and Multimedia at FON University-Skopje
• Creative children's studio by MKC / Dorothei Nesovski